Lives have changed and gotten busier. So have the times, now we have technology for just about anything. Whatever you want is at your fingertips, quite literally. Want to go somewhere? Book an Uber. Want to read a book but can't find time to visit the library? Download it. Don't feel like cooking? Order from your favorite restaurant.
We're all too familiar with the pains of getting stuck in traffic and then long billing queues when it comes to grocery shopping. No menial task if you ask me. A 10-min trip could easily become a 1-hour trip. Sometimes we may not even find what we went for. How disappointing is that!
This is where online grocery shopping comes in. Like any e-commerce business, the product availability and variety exceed far more than what you find in your local stores. A lot of the items are discounted, you save time, gas, and money and as they're delivered to your doorstep, you don't have to do the heavy-lifting either. It's a win-win.
Here are some of the best sites to order grocery from:
Thrive Market
Thrive Market is an online supermarket with a wide range of products, including allergy-free products. Their yearly membership model offers you a solid 25-50% discount on most retail prices. Talk about a super saver! To help you decide, Thrive Market offers a free 30-day trial membership, if you don't like it you can cancel the membership within 30 days. What's more? They match every paid membership with a free one, given to a low-income family.
Unlike a lot of companies that just about sell everything under the sun, Thrive Market specializes in healthy foods and clean-living products at a discounted price. They also sell products from their own brands that are high-quality at competitive prices.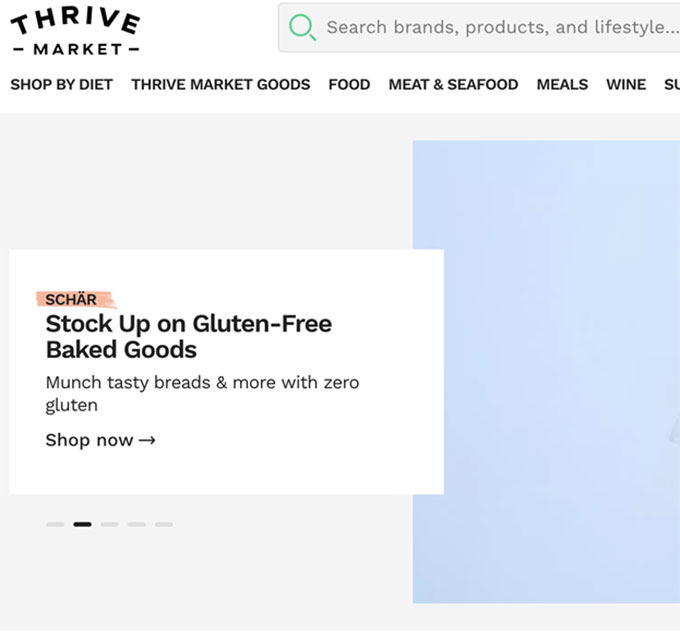 To save more, shop from deals, extra savings, and cashback offers. There are basically no cons of shopping at Thrive Market, apart from them not offering fruits, vegetables, and other perishable goods. It's best to plan your shopping in advance as it takes 3-5 days to get your items.
Boxed
Boxed specializes in deliveries of high-volume groceries to your homes without a mandatory membership fee. This means that you are free to browse and compare prices without constraint. However, if you're looking for same-day delivery and a discounted delivery charge, you'll have to go for the BoxedUp program which will cost you around $49 yearly.
Boxed offers free shipping on the first order and runs a weekly special. You can choose 2 free samples with every order. You can also avail of free shipping if your order totals $79 or more. Many of the products on Boxed are priced less than what you find at local stores.
If you're someone who doesn't like to shop in bulk, Boxed is not for you. Unlike other online grocery stores, Boxed offers bulk purchases rather than standard product sizes.
Instacart
Instacart employs personal shoppers to shop for you and deliver the groceries to your house. Depending on your zip code, you can shop from a big selection of stores. It is customary to tip your shopper for each order so if you're someone who has a budget, it would be wise to factor this in as well.
Depending on availability, Instacart can deliver your order within a 2-hour time frame. You can also schedule orders 2 weeks in advance.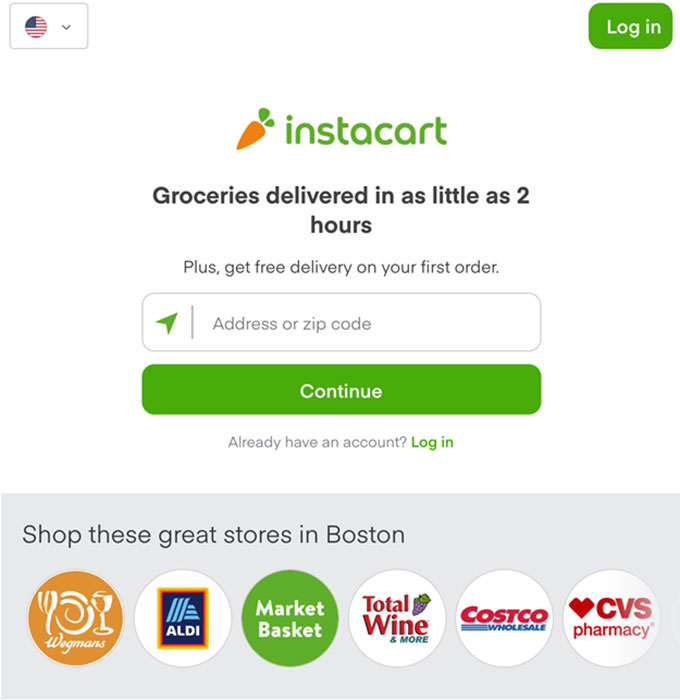 They also offer a cost-saving membership option, Instacart express, for people who grocery shop regularly, helping them save an average of $7 per order. It waives delivery fees and lowers the service charges considerably. Their website and app are both easy to navigate, you can also track the progress of your order from the time you place it.
Shopping at Instacart can be more expensive than shopping at your local stores. Delivery, membership, and service fees aside, some items are priced more through Instacart than they are in stores.
Fresh Direct
Fresh Direct is a one-stop-shop for all your dietary needs. It is a service that provides a variety of prepared foods and fresh ingredients. They offer a wide range of products and you can filter to find products that best suit your needs.
Fresh Direct has a minimum order value of $30 for home delivery. Delivery charges are based on your location. However, it is only available in selected areas. Fresh Direct is a convenient alternative for people who don't mind spending a little extra on groceries, as some prices tend to be much higher than what their counterparts offer.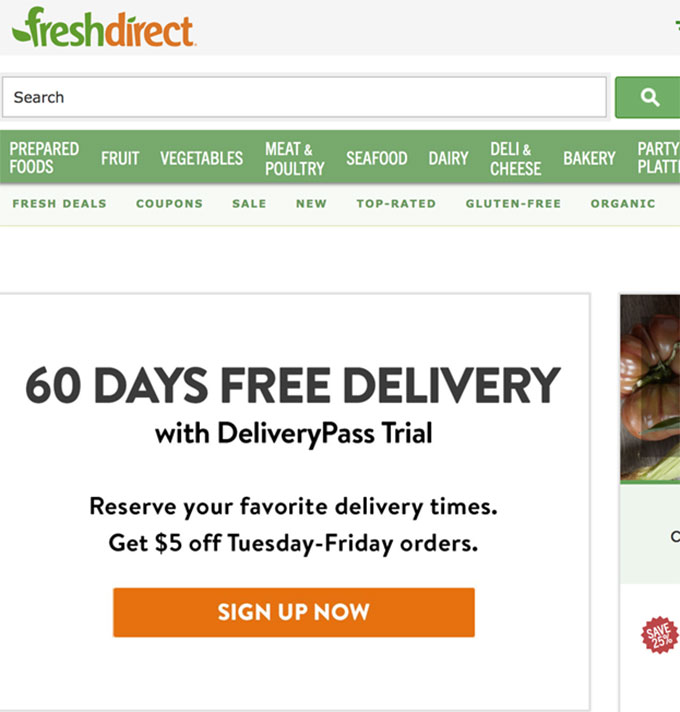 Grocery shopping can be fun when you do it from a site best suited to your preferences. Weigh in the pros and cons and decide for yourself. You'll find some sites and services that work best for you than others. Happy Shopping!