A lot of people have been focusing on healthy eating these days. After all, COVID-19 is here for the long-haul, so it's wise to keep our immune systems up to stay safe and protected from the disease.
But, what exactly is the word of grilling: Is it a good thing or a bad thing?
Considering that the golden rule of eating meat at home or at any restaurant is to choose grilled foods over fried ones, it MUST be good. But, that isn't always the case.
There are, I find, two nutritional downsides to grilling:
Most Americans fall into the trap of using high-fat meats and sausages when they fire up the grill — which pumps more calories, cholesterol, fat, and saturated fats into their bodies.
Then there's the issue of two cancer-causing compounds polycyclic aromatic hydrocarbons (PAHs) and heterocyclic amines (HCAs) that form on the grill once fat drips onto the coals. I hate to burst your bubble but that yummy charring that you find on grilled meat contains PAHs and HCAs.
Healthy Grilling Tips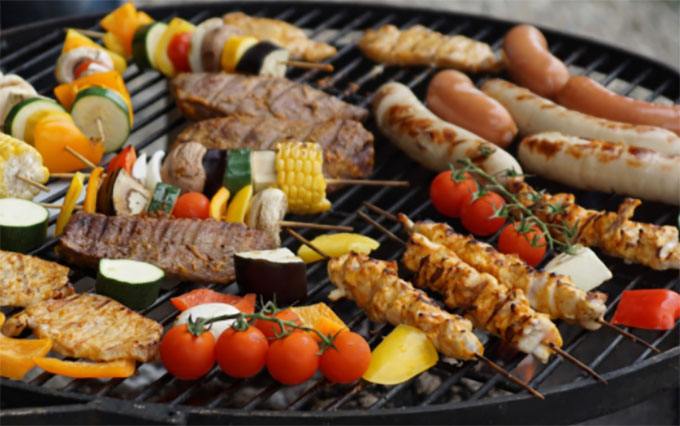 Health-conscious people are always looking for ways to make healthy food without sacrificing taste. Here are my suggestions::
Go Lean on Your Meats
There's no denying that fat adds to the flavor of the meat. But, if you're looking for a healthier way to "get your grill on," it may be time to consider trimming the fat off your meats or buying leaner alternatives from your usual butcher shop. (You can read a detailed guide on how to choose leaner, cleaner meats on this page.)
This will lessen the amount of fat dripping on your grill and saves you from eating PAH and HCA packed grilled meats.
Grill More Vegetables
Everyone needs to eat more fruits and vegetables, and this is a great way to serve them! PAHs and HCAs don't form on grilled vegetables and fruits, so there's no reason for you not to go nuts on your grilling.
Some fruits and vegetables that are great on the grill:
Eggplant
Endive
Apples
Pineapples
Pears
Zucchini
Tomatoes
Onions
Bell peppers
If you're looking for an awesome grill to fire-up your veggies, here's a detailed review of the Traeger Tailgater for you to check out.
Marinate, Marinate. Marinate!
To most people, marinating can look like a trivial thing. However, aside from being the best way to get more seasoning and flavor on food, marinating also reduces the HCA formation on your meats while you grill.
Keep these tips in mind when you marinade:
When choosing pre-made/bottled marinades, look for products that contain healthy oils like olive or canola oil
Refrigerate any meat that you need to marinade for more than ½ an hour to prevent bacteria from forming on the meat
Don't baste the meat you're grilling with the liquid you used to marinate it with. Instead, set aside a good amount of the sauce before you put your meat in to use for this purpose
Meats and poultry should be marinated for at least 1-2 hours before grilling; fish and vegetables on the other hand are good to go after 1 hour of marinating
Keep Your Grill Clean
Above all, the best and healthiest way to grill your food is to keep your grill clean at ALL TIMES.
You may notice that, after cooking, charred bits of meat and sauces have stuck to the grill. If left, they can encourage bacteria to grow, which is in no way healthy for anyone. Instead of just leaving the grill as it is, always clean it immediately after grilling, while the grill is still hot.