Cucumber Sandwiches are delicious and refreshing finger food ideal to serve for lunch or a fancy English-style tea party!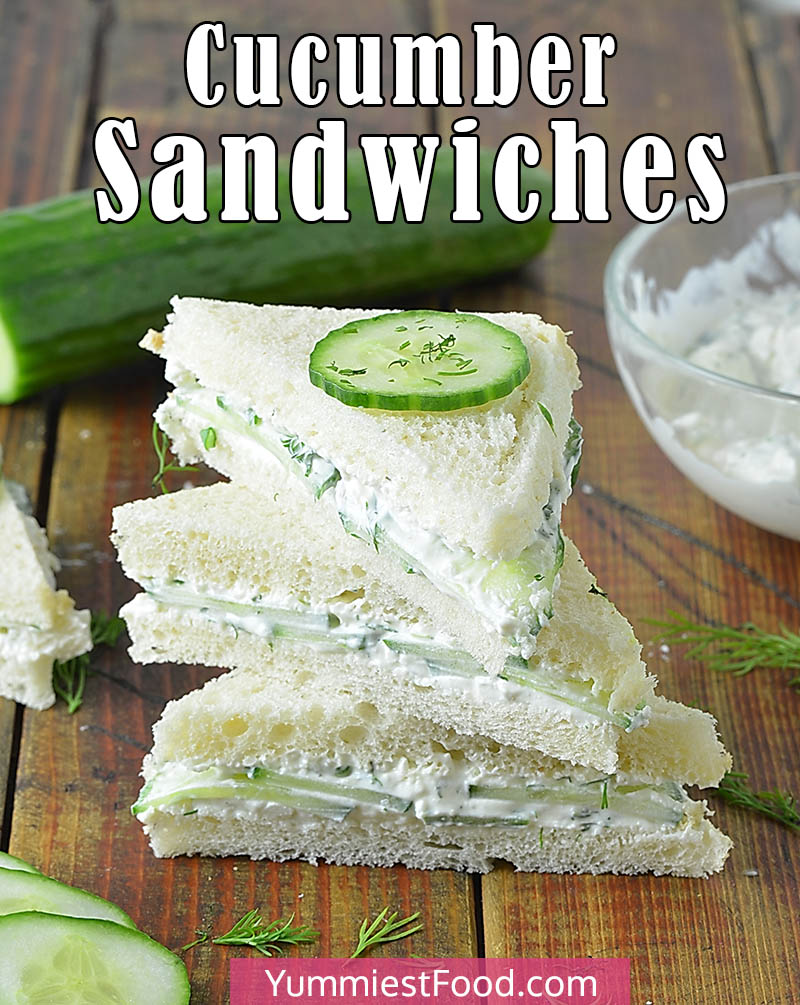 What is Cucumber Sandwich?
A Cucumber sandwich is made up of bread with cream cheese, mayonnaise, and seasoning added with a layer of cucumbers in the center
The dainty pairing of white bread and cucumber has long been a staple of the English afternoon tea tradition. In this variation on the classic, we layered the cucumbers over a delicious filling of cream cheese, lemon, and fresh herbs.
They're perfect for a quick light lunch or an afternoon party–with or without tea!
Cucumber Sandwich Substitutions:
Herbs: If you don't have fresh dill, you can substitute dried dill, or if you don't have dill on hand at all, you could use fresh chives or other fresh herbs that you prefer.
Bread: Any white bread works well! I wouldn't personally choose bread with a thick crunchy crust, since you're going to remove the crusts anyway.
Cream Cheese: If you are in a rush, you could also make these using flavored or herbed cream cheese instead of mixing it from scratch.
Cucumber: We used English cucumbers for cucumber sandwiches with cream cheese because they have a thinner skin and fewer seeds and because you do not need to peel them. Any fresh cucumber you can find works well in this cucumber sandwich recipe.
What is a Cucumber Sandwich in England?
In England, cucumber sandwiches are made with crustless triangles of bread that have been spread with butter. Thin slices of cucumber are added to the sandwich, along with a sprinkle of salt and a dash of lemon juice.
Can I Make This Cucumber Sandwich Recipe Ahead of Time?
You can make these sandwiches up to 3 days in advance and store them wrapped in the fridge until you are ready to serve them.
How to Store Cucumber Sandwiches?
You can store or make them in advance for up to 24 hours. These are quite delicate and puffy appetizers, so it is best to make them fresh or store them for no more than 24 hours.
Use an airtight container, and refrigerate them for up to 24 hours. Also, use wax paper and a damp paper towel on top of the sandwiches to keep the bread from drying out.
The texture of these sandwiches is wonderful. They are soft and creamy with a slight crunch from the cucumber.
I made these for my family and everyone but my son loved them. My husband, daughter, and I ate them all up. We all really enjoyed them. I love this recipe and will be continuing to make these sandwiches exactly like this. Enjoy!
Cucumber Sandwiches Recipe
Cucumber Sandwiches are delicious and refreshing finger food ideal to serve for lunch or a fancy English-style tea party!
Ingredients
8 ounces cream cheese softened
¼ cup mayonnaise
¼ cup sour cream
2 tablespoons fresh dill chopped
¼ teaspoon onion powder
¼ teaspoon garlic powder
2 tablespoons lemon juice
1 teaspoon lemon zest
Salt and pepper to taste
1 English cucumber, thinly sliced
1 loaf sliced bread
Instructions
In a small bowl, using a hand mixer whisk cream cheese, sour cream and mayonnaise until smooth
Stir in fresh dill chopped, onion powder, garlic powder, lemon juice and zest
Add salt and pepper to taste.
Spread cream cheese mixture onto one side of each piece of bread
Thinly slice cucumbers
Place a layer of cucumber slices onto a piece of bread over the cream cheese layer
Top with additional herbs if desired and overlap with remaining bread slice
With a sharp knife cut crusts from the sandwich to form a square and cut each sandwich on diagonal to form two triangular sandwiches
Serve