HOMEMADE CARROT CAKE – This easy Carrot cake recipe is rich, moist, delicious and incredibly simple to make!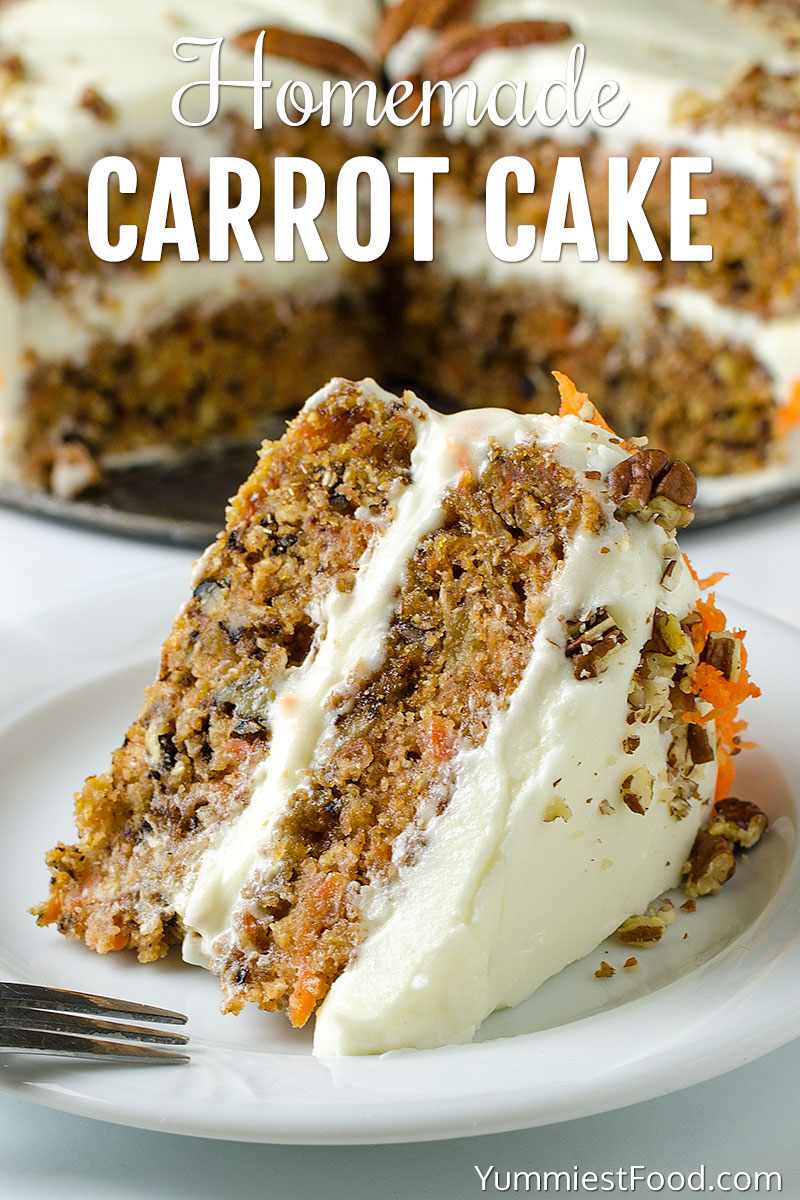 It seems to me there are two types of carrot cake, the ones that are light and fluffy almost more like a spice cake with carrots and then there are ones like this which are incredibly moist and fully loaded with goodies from pineapple and pecans to coconut. I personally prefer the latter.
This is the best Easy Homemade Carrot Cake! It's perfectly moist and delicious, made with lots of carrots, pecans, coconut and pineapple and topped with the most heavenly cream cheese frosting.
This Carrot cake recipe is truly the best carrot cake I have ever had and converted me into becoming a carrot cake lover. So supremely moist, fluffy and delicious, you can add or omit mix to suit your preference, but this cake has coconut, pecans and pineapple which give it ample flavor.
This Carrot cake is easy to make, versatile and utterly delicious. It wasn't something either of us grew up eating, but thanks to this easy recipe we fell in love. You can make this Carrot cake quickly and easily with just bowls. It comes together really quickly. Just whisk the dry ingredients together, whisk the wet ingredients then combine and stir in grated carrots, pecans, shredded coconut and pineapple and mix. Easy!
The cake layers bake in the oven for 35 to 40 minutes, they smell fantastic. After baking, let the cake cool then frost with your favorite frosting. My family and I love our creamy cream cheese frosting. Everyone needs a great cream cheese frosting recipe and this is best cream cheese frosting recipe, sweet and creamy and delicious.
Easy Homemade Carrot cake is a classic dessert that I think we have all enjoyed. This cake is even moister and flavorful the second day once the flavors have all settled in each other. I can't believe I've waited this long to share this recipe with you! Enjoy!
Homemade Carrot Cake Recipe
Prep time:
Cook time:
Total time:
HOMEMADE CARROT CAKE – This easy Carrot cake recipe is rich, moist, delicious and incredibly simple to make!
Ingredients
For cake:
3 eggs, room temperature
2 cups granulated sugar
1 cup unsweetened applesauce
1 teaspoon baking powder
1 teaspoon baking soda
1 teaspoon cinnamon
Pinch of salt
2 cups all-purpose flour
2 cups raw grated carrots
1 cup chopped pecans
1 cup shredded sweetened coconut
1 cup crushed pineapple, not drained
For cream cheese frosting:
16 oz cream cheese, softened
1 cup unsalted butter, softened
4 cups powdered sugar
1 teaspoon vanilla
For garnish:
Chopped pecans, optional
Grated carrots, optional
Instructions
To make the cake:
Preheat oven to 350 degrees
Grease two 9-inch round baking pans, line with parchment paper or waxed paper, set aside
In a medium bowl, mix flour, baking powder, baking soda, cinnamon and salt
In a large bowl, with an electric mixer beat eggs, granulated sugar and unsweetened applesauce until combined
Slowly add flour mixture and mix until combined
Stir in grated carrots, pecans, shredded coconut and pineapple and mix
Pour batter into prepared pans
Bake for 35-40 minutes or until a toothpick in center comes out clean
Let cool in the pans for 10 minutes, then remove the cakes to wire racks and let cool completely
To make cream cheese frosting:
Beat the cream cheese and butter until light and fluffy
Gradually add powdered sugar and vanilla until mixture is light and smooth
To assemble the cake:
Place one of the cake rounds on a serving platter
Spread a thin layer of cream cheese frosting over the cake
Set another cake layer on top of the filling and spread cream cheese frosting over the entire cake
Press the chopped pecans and grated carrots into the sides of the cake and sprinkle some over the edges
Store covered in the fridge
Notes
You can use vegetable oil instead of unsweetened applesauce.