If you landed on this page because you are actually interested in the subject of this post, the odds are 10 to 1 you are already doing a lot to make sure your body is getting the nutrients it needs. You most likely have a nourishment plan to ensure you and your loved ones are:
Eating a balanced diet of fruits or veggies with a decent amount of grains and nuts?
Drinking a lot of water and replacing processed food with whole food?
Pairing food intentionally to maximize the absorption of nutrients?
And making sure there is variety in your diet so you don't miss out on key nutrients?
Basically, you are doing your best to keep your mind and body healthy. If that sounds anything like you, you deserve a standing ovation. But there might be one small but vital detail you could be missing.
Typically, when planning a healthy diet, the main focus is on what you eat. The cookware you use when preparing those meals rarely comes into the picture. But did you know that the type of pot you use for cooking your meals can impact the quality of that food?
Some pots will enrich your food and give it a better taste but others won't. Not knowing the right kitchenware to use can diminish the success of your meticulous food plan. So today we are going to discuss how different types of cookware interact with your food and which ones to use.
·        Aluminum
The advantage of aluminum cookware is they are lightweight and conduct heat well. Aluminum pots and pans will not destroy the nutrients in your food. But they have the undesirable quality of leaving cruciferous – cabbage, broccoli, and Brussels sprouts – with a stronger and unwanted aroma.
Aluminum pots will also turn white foods like cauliflower and potatoes into an annoying yellow. However, there is no basis to the claim that aluminum pots increase your risk of Alzheimer's disease.
If you prefer aluminum cookware, best option might be hard anodized aluminum set, as it doesn't leach into your food during the cooking process. You can learn more about it's benefits in this article by HomeDesignX.
·        Copper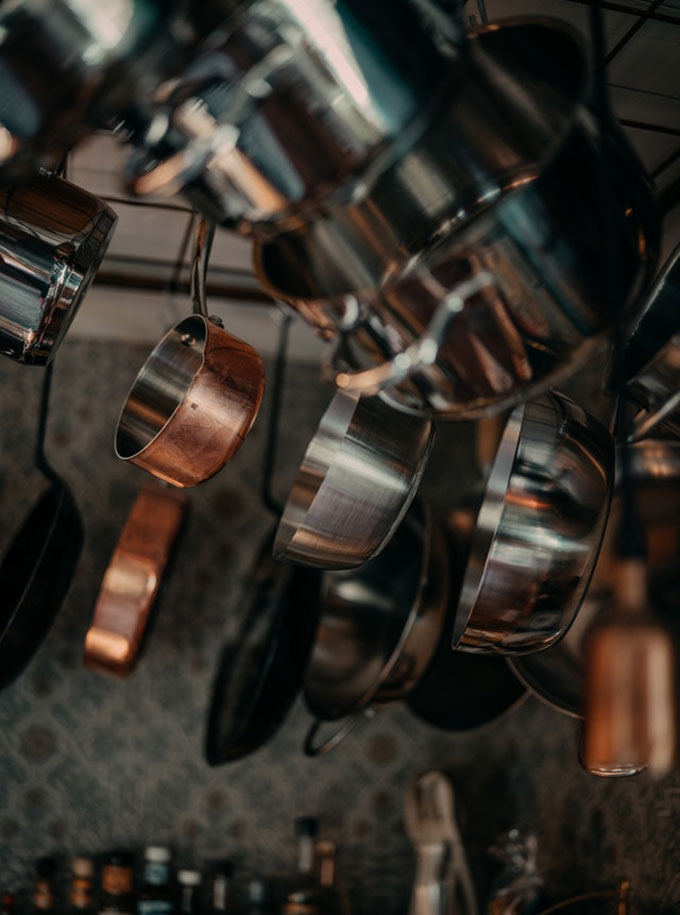 Coppers pots handle heat very well, they don't heat up quickly or get too hot. That is the reason a copper lining is often used to improve the heating properties of other types of pots. But because copper is a potentially poisonous metal – if it comes in direct contact with food – copper pots are lined with tin or stainless steel. As long as the lining is intact and you don't see orange-colored lines in the metal then your copper pot is completely safe.
·         Pure clay
Unglazed clay cooking utensils are among the best types of cookware. They are completely non-toxic, so there is no danger of harmful chemicals leaching into the food. Clay, being a natural material, radiates infrared heat to help food get thoroughly cooked even at medium heat. This is why food cooked in a clay pot requires a shorter cook time and the food retains its freshness even when fully cooked.
·        Ceramic
The advantage of ceramic pots is they are porous enough to let excess steam escape while retaining enough moisture to keep food moist and well-cooked. Food cooked in a ceramic pot will come out juicy and firm, but only if the pot is unvarnished. The varnish found on some ceramic pots reduces the vessel's porosity. Additionally, some of the pigments used in the varnish may contain lead.
·        Enamelware
Enamel pots – metal pots covered with porcelain – are a good choice for cooking because they won't react with your food. Enamel pots cook a lot more slowly than plain metal pots even if they heat less evenly. But they are only good as long as the porcelain is not damaged. If you can see to the metal below the porcelain surface, it is time to discard your enamel pot. The metal in a damaged enamel pot could leak into your food.
·         Iron
The first thing to note about iron cookware is it will actually release iron ions into your food. This can be a problem for people with "hemochromatosis," a situation where iron builds up to such levels it can damage the body's organs. Apart from this, iron pots conduct heat very well and they are really easy to clean. Although they are quite heavy. iron pots will last a very long time.
·        Stainless steel
Stainless steel pots are an alloy of two metals. If one of the metals is nickel, these pots can pose a problem for people who are allergic to nickel. Stainless steel pots tend to overheat. The pots also tend to become discolored with heavy use over a long period of time, especially if you regularly cook pasta or potatoes in them. The primary advantage of stainless steel cookware is its strength and durability.
·        Nonstick
The surface of nonstick cooking pots and pans is coated with polytetrafluoroethylene, a plastic. This is combined with a hardener to make a scratchproof surface that does not react with food. Nonstick surfaces let you cook without adding fat. But the cookware is only safe if you don't cook at very high temperatures and the nonstick surface is intact. Cracked coatings may break off into the food and get ingested. Also, nonstick pots with quality Teflon pots are quite expensive.