There's no better dinner party for a family reunion than homemade delicious steak. Indulge your carnivorous side with a perfectly seared steak, cooked to your liking, and served with some of your favorite side dishes and sauces. Surprise your family with your favorite home-cooked dish, and make a dinner party no one will forget.
Follow the steps below and make sure to enjoy!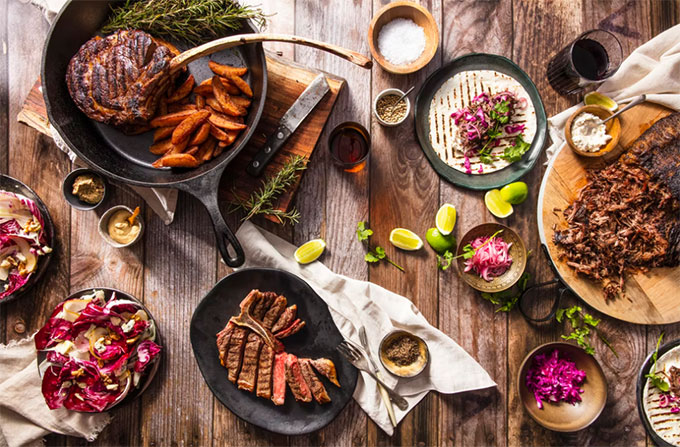 Purchase quality meat
The first step is purchasing quality meat from a well-known butcher shop. Nowadays, it's even easier, you can simply google "butcher shop near me", and have it delivered to your doorstep while you're making the sauces, side dishes, and dessert.
If you decided to visit a local butcher shop then remember to use your senses and look for a steak with juicy fat that will make the meat even more tender and delicious. Ask your butcher for advice on how to cook it properly, and they may give you some great recipes as well.
Choose the perfect cut
The best cut would be moist rather than dry. Look for fine-grained, firm meat with marbling which will deliver its juiciness. The fat edges of the meat should be creamy-colored, and if you choose a properly hung beef that's been matured on hooks, its color should be deep burgundy, and not red.
Some of the most common cuts include t-bone (porterhouse) or filet mignon. These cuts can be found in a butcher shop rather than a supermarket. If you're opting for a cheaper cut you can go with a skirt, flank, or bavette cut, but remember to serve as rare as you can handle as they might become tough if you leave them to cook for a longer time.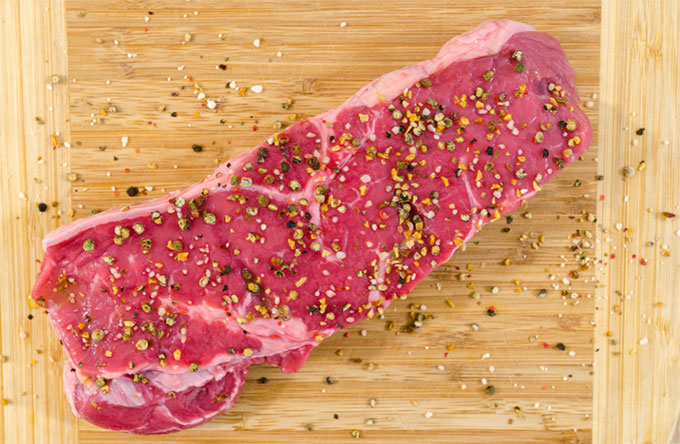 Cook to perfection
If you want a better crust you might want to make the steak as dry as possible before cooking. For example, place the steak on a paper towel, sprinkle salt, and leave it to sit for 30 minutes. Before cooking, you can pat the meat with more paper towels to make sure it's totally dry.
You can also use a thermometer to guarantee the perfect level of doneness. The most accurate indicator for achieving your perfectly cooked steak is inserting the thermometer into the thickest part. Also, remember to flip the steak a couple of times while cooking as this will improve the texture and prevent it from drying out.
Slice and serve
If you didn't buy individual cuts for everyone, the last step would be to slice the meat perfectly. Rather than slicing it with the grain, you can slice it against or through the grain to have tender and less chewy pieces of meat.
Note that you should serve the steak right away and don't let it rest. This can work against the meat, meaning it will become cold, and your hard-earned crust will soften, so it won't taste as delicious as you would want it to. What's better than a warm and juicy steak right out of the pan?
Add seasonings and sauces
If you want to enrich the meat's flavor while cooking it, you can try adding seasonings such as spice mix, barbecue spice, blackened seasoning, or jerk seasoning. The blackened seasoning is a fusion of Cajun and Creole seasonings, butter, and intense heat. The jerk seasoning consists of cinnamon, ginger, hot pepper, and allspice.
Plenty of people love their steak to be covered in a delicious sauce. You can make Bearnaise sauce, a classic French dressing considered the world's finest steak sauce. You can also make simple aioli, or a red-wine shallot sauce and put it on the table for your guests to choose which one they like best.
Side dishes
Salads as well as side dishes are a perfect match with the delicious steak. For example, you can make garlic mashed potatoes, maple Brussels sprouts, or sautéed mushrooms and it will be a finger-licking dinner experience for everyone.
Remember that you don't need a ton of everything, just a bit of variety. You can add a green salad in between the side dishes to blend in perfectly. The list of side dishes is endless and you can choose some that your family loves, but also make something that will surprise them.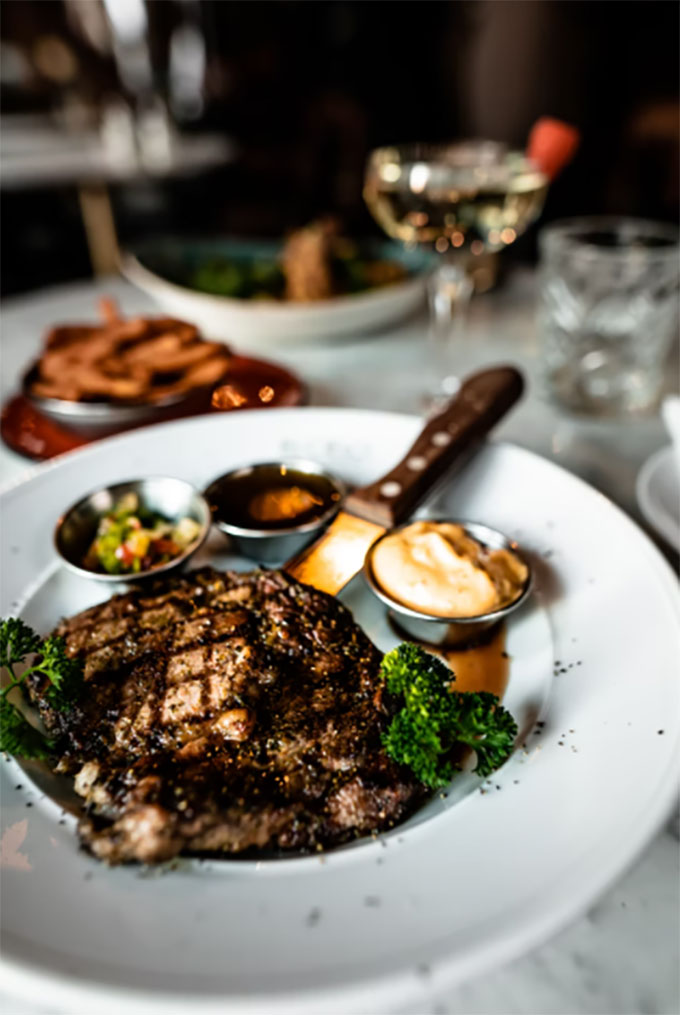 Final thoughts
Along with making a delicious steak dinner party, you should consider the perfect drink that goes well with it. Either red or white wine, or a refreshing beer, the choices depend on your family's taste. This will complete the home-cooked steak dinner experience, and you will be praised for being a great host. Your family will love to have this type of dish again and again.