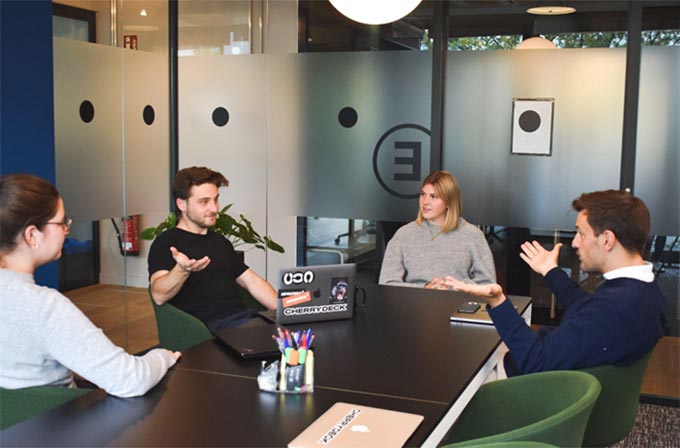 Business meetings can be essential and stressful, and the right food can make a significant difference in creating a comfortable and productive environment. The food served at a business meeting can vary depending on the time of day, the purpose of the meeting, and the attendees' preferences.
Most of the time, business meetings are venues for significant people in your company, a discussion for the company's projects, or planning events to have guest speakers to collaborate with. It's important to serve the right food at a business meeting because it can impact the overall productivity and success of the meeting.
With that in mind, here are some general guidelines you can consider when planning the menu for a business meeting.
Consider the Time of Day
The time of day can significantly impact the type of food that should be served. For a morning meeting, consider serving breakfast items such as pastries, bagels, yogurt, fruit, and coffee. Attendees can get an excellent start to the day with these alternatives, which are often light.
For a lunch meeting, sandwiches, salads, or hot entrees can be a good choice. These options are usually more substantial than breakfast options and can help attendees stay focused and energized during the afternoon.
Light snacks such as crackers, cheese, nuts, or fruit can be a good choice for an afternoon meeting. These options are usually easy to eat and help attendees stay alert without feeling too full.
Consider Dietary Restrictions
It's crucial to account for guests with food allergies or restrictions. Offering a variety of options for those who may be vegetarian, vegan, gluten-free, or have other dietary restrictions can help ensure that everyone feels comfortable and included.
If possible, ask attendees about their dietary preferences or restrictions ahead of time so you can plan accordingly. Alternatively, you can offer various options and label them clearly so that attendees can choose the items that work best for them.
Consider Convenience
Easy accessibility is a must when planning the menu for a business meeting. Attendees should be able to eat while sitting and taking notes or discussing business matters. Finger foods such as sandwiches, wraps, and finger sandwiches are often a good choice as they are easy to eat without utensils.
Consider Hygiene
Messy or difficult-to-eat foods can be a distraction and may make attendees uncomfortable. It's important to eat foods that are manageable and easy to eat cleanly. For example, there may be better choices than foods that require a knife and fork or that have a lot of sauce.
Additionally, it's essential to ensure that the food is served and presented hygienically. Maintain an appropriate temperature and avoid leaving food out for extended periods of time to prevent spoiling.
Consider Beverages
Finally, it's important to offer a variety of beverages to attendees. Water, coffee, tea, soda, and juice are good options to help attendees stay hydrated and focused. Make sure that there is enough of each beverage to last the entire meeting, and consider offering both caffeinated and decaffeinated coffee and tea options.
Serving Food at a Business Meeting
The food provided during a business meeting can greatly impact how well it goes. By considering the time of day, dietary restrictions, convenience, hygiene, and beverages, you can help create a positive impression and foster a productive meeting environment.
Ultimately, serving food at a business meeting aims to create an environment that is comfortable, productive, and conducive to discussion.
The right food can help attendees feel comfortable, focused, and energized, while the wrong food can be distracting, uncomfortable, and even detrimental to the meeting's objectives. Serving high-quality, appropriate food options demonstrates professionalism, attention to detail, and consideration for the needs of the attendees.
By offering a variety of high-quality food and beverage options, you can ensure that attendees feel comfortable and can focus on the business at hand.