If you have a trusty Dutch oven, you probably already know what an amazing and versatile piece of cookware they are! Capable of withstanding incredible amounts of heat in the oven, on the stove, or even over a campfire, a Dutch oven is our most trusted tool when creating fabulous dishes anywhere, and we use ours almost daily!
A double Dutch oven (like this one: https://unocasa.com/products/cast-iron-double-dutch-oven) is even more versatile as the lid can double as a skillet, perfect for an all-in-one solution for all your cooking needs.
But while you might be accustomed to the impressive range of dinners your Dutch oven can handle, you might not think of them as a baking aid for delicious desserts!
If you've not used your Dutch oven to create amazing sweet treats the whole family will love, then you're not alone! Thankfully, however, we've compiled a list of some of our favorite, delicious, and (most importantly) easy Dutch oven dessert recipes for you to enjoy!
1. Dutch Oven Double Chocolate Cake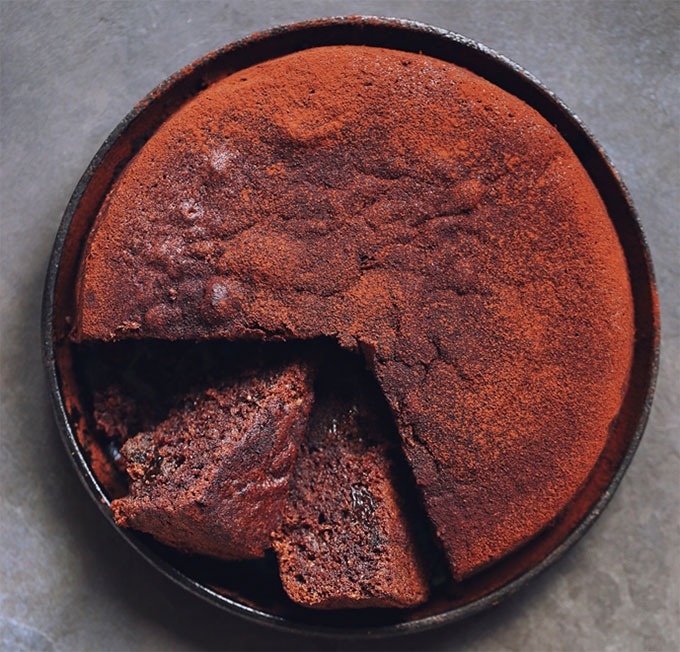 Ingredients
1 ½ cups flour
1 cup sugar
¼ dried buttermilk
¼ cup unsweetened cocoa
1 tsp baking soda
½ tsp salt
1 cup chocolate chips
1/3 cup vegetable oil
2 tsp vanilla extract
Sweetened whipped cream (canned or make your own)
Method
Combine the flour, sugar, buttermilk, cocoa, baking soda, salt, and ½ the chocolate chips
Separately, combine 1/3 cup vegetable oil and the vanilla extract.
Prepare your campfire or oven, generously oil your Dutch oven, and line with parchment paper.
Combine the oil and flour mixtures in a medium-sized bowl and stir until thoroughly blended.
Scrape the batter into your Dutch oven and sprinkle over the remaining chocolate chips.
If you're baking on a campfire, set your Dutch oven on the coals and check it is level. Set the lid on the top and arrange 14 coals around the lip with 2 coals in the center of the lid. Reserve any extra coals for later.
Bake your double chocolate cake until a skewer inserted into the center of the cake comes out clean – approximately 25-50 minutes, depending on how hot your coals are.
Remove the lid and allow the cake to cool for 15 minutes before cutting it into wedges.
2. Dutch Oven Chocolate Chip Cookies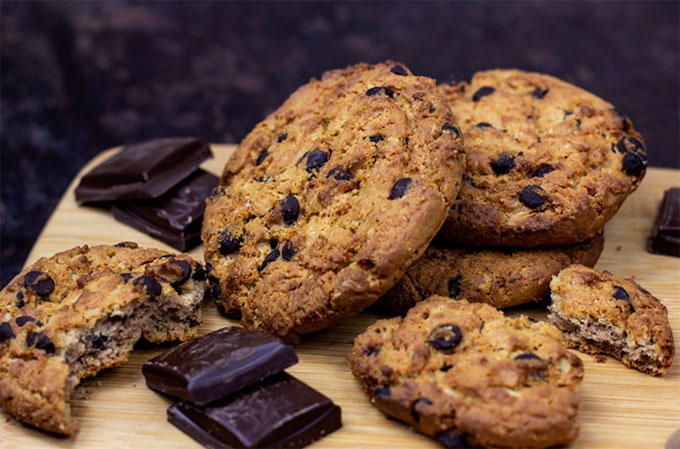 Ingredients
¼ cup granulated sugar
¾ cup packed brown sugar
1 cup butter, softened
1 tsp vanilla
1 egg
2 ¼ cups flour
1 tsp baking soda
½ tsp sea salt
1 – 2 cups semisweet chocolate chips
Method
Mix together the two types of sugar with the butter, beating until light and fluffy.
Add the vanilla and egg and continue beating until a smooth batter forms.
Add flour, baking soda, and salt to the batter, then fold in the chocolate chips.
Roll your dough into balls and place on parchment paper inside the Dutch oven.
Cover with the lid and transfer to pre-prepared hot coals.
Check your Dutch oven is well balanced and add coals to the lid.
Bake for 8-10 minutes, until the cookies are light brown. Watch carefully after the first 8 minutes to prevent burning.
3. Dutch Oven Cobbler
Ingredients 
4 cups fruit of your choosing (berries, peaches, apples, etc. work well)
½ box vanilla cake mix
1 cup lemon-lime soda (for example, Sprite or 7Up)
2 tbsp unsalted butter, cold and cubed
2 tbsp granulated sugar
Whipped cream, to serve
Method
Preheat 45 charcoal briquettes until white and glowing. Grease the bottom of your Dutch oven lightly.
Combine the cake mix and soda in a medium-sized bowl until it forms a thick but moist batter.
Place your chosen fruit in the bottom of the Dutch oven and spoon the cake batter on top.
Cover the cake mixture with small cubes of cooled butter and sprinkle with sugar.
Cover with the lid and place on top of 15 hot briquettes.
Check the Dutch oven is well balanced and place the remaining 30 briquettes on the lid (this will cause the heat inside of the oven to reach approximately 350'F)
Bake for approximately 10 minutes before rotating the Dutch oven clockwise and the lid counterclockwise.
Lift the lid to check on your cobbler after 20 minutes. The cobbler is ready when the top is golden brown and the fruit juices are bubbling.
Remove your Dutch oven from the coals and allow to cool slightly before serving with whipped cream.
Final Thoughts
Baking with a Dutch oven is so much easier than many people would think. Perfect for campfire cooking, these Dutch oven dessert recipes are perfect for cooking over hot coals, or you can easily use them to make unforgettable sweet treats in your oven at home.
Everyone will love you with these delicious Dutch oven desserts (and nobody but you needs to know how easy they were!)