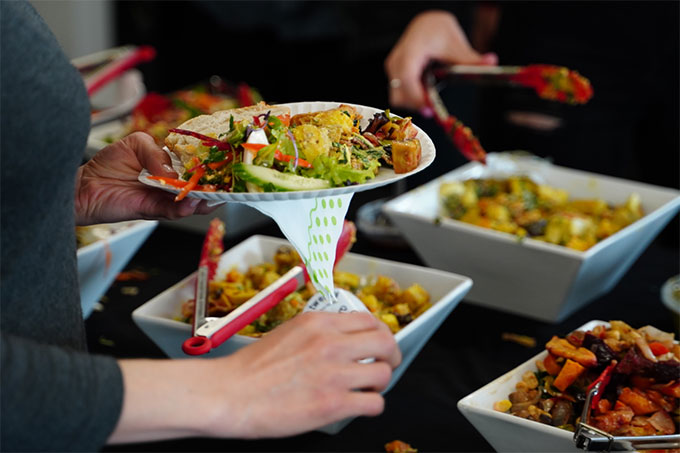 Are you looking to have lunch delivered to your office? If so, you'll want to find an office lunch service that offers a variety of options for you and your staff. You may think this is as simple as picking up the phone. But, there's much more to consider when finding a service that suits your needs. This post will cover what aspects of an office lunch service are necessary and how they can help improve employee performance.
Size Of Your Workplace
When selecting an office lunch service, the size of your workplace and the number of employees you have are important factors to consider. If you're trying to figure out how many people will be eating lunch at your business every day, then consider:
The number of employees working in your office each day.
How many times per day do they eat lunch?
How many days per week they'll be eating at work?
The same goes for those who don't take a break during the day. They, too, should have access to fresh foods like fruits and vegetables. It will allow them to grab food on their way back from meetings or while taking care of other tasks. It is vital to note if any workers have diabetes or have special dietary needs such as gluten intolerance.
Type Of Organization Running
Think about how your organization works and how many employees you have. If you are a small business with a handful of staff, choosing a cost-effective office lunch service may be more beneficial. If you have multiple branches or locations, consider looking into companies that provide customized options based on site and dietary needs.
On the other hand, your company has hundreds or thousands of employees spread across multiple offices in different cities and states. So you might want to find an office lunch service that delivers nationwide or internationally. You'll also want to examine whether this type of service provides corporate catering services and individual accounts; some do both while others only offer one variety.
Lunch Program Options To Choose
When choosing your office lunch service, it's crucial to have various meal options. You can't please everyone with just one option, so it's vital to offer a variety of choices. You also shouldn't provide just one price point.
Some people want to spend their money on things they enjoy and don't want to spend too much on food that isn't going to be eaten. Other people would save money and eat cheaply at home or go out for lunch. Some people are on specific diets or have special dietary restrictions, and others aren't. It would be best if you considered these factors. There should be office lunch program options available when choosing which will best serve your employees' needs and preferences.
Variety Of Menu Options
You may be surprised to learn that a variety of menu options is one of the most important things you can look for when choosing an office lunch service. Why? Because having a variety of options available allows you to choose what you want to eat and avoid what might make you ill or uncomfortable. A good catering company will offer a wide selection of food choices. That may include vegetarian options and items free from allergens, such as nuts and dairy products.
If your staff has multiple dietary needs, such as those who are vegan or gluten-free, your caterer must offer plenty of choices so everyone can find something they like. In addition, some specific individuals have food allergies or sensitivities. In that case, they must access their preferred foods and know the ingredients in those meals before ordering them.
Ensuring Well-Balanced Menu
It's essential to look for a company that provides this type of menu if you want to ensure that your office gets a well-balanced meal. A well-balanced meal includes all the food groups in equal proportions. It means that the ingredients should be evenly distributed across each meal. So no one food group stands out as being higher than another. For example, if a lunch contains some chicken and vegetables but no fruit or grains, this could be considered unbalanced as it lacks any fruits or whole grains.
To check whether your meals are well balanced, check the nutritional information your caterer provides. If not enough servings of each food group are included in each meal, then look elsewhere. You can also ask them directly before signing up with them. They should be able to tell you how many servings each person receives when they start working.
Delivery Service With Set Schedule
A schedule is essential for business continuity. For example, your team may properly organize their workday when they know the lunch timings. Likewise, they know when to stop working and take a break.
A schedule is vital for employee morale and productivity. For example, employees are more likely to get hungry if they don't have something on the horizon (like lunch). So having a set meal time means that employees can expect the same thing every day. In addition, it improves morale because people love routine, which makes them more productive at work.
It's also better for employee satisfaction than not having a set schedule. Finally, having food delivered regularly means everyone can access food when needed. It helps reduce stress levels while increasing workplace safety and health.
Meeting Your Requirements
You'll want to take the following considerations into account when choosing your office meal service:
Price: The price of the meal service should depend on the number of people you want to feed and how often. A weekly or monthly plan may be best if you have only a few employees and don't need food daily. But if your staff is large or more prone to lunch breaks, consider opting for a daily delivery service instead.
Dietary Restrictions: Your employees might have special dietary needs like allergens, which could affect what you can offer through an office meal service company. Make sure your provider's options meet everyone's needs before making a decision.
Meal Options: Some companies specialize in one type of food, like pizza delivery services, while others offer an array of choices like sandwiches, salads, soup, and more. Make sure that whatever option works best for your business meets all its requirements. So there's no confusion down the line regarding pricing or availability of meals throughout each week/monthly period.
Choose The Best Office Lunch Service Using These Tips
We hope this list has helped you figure out what to look for in an office lunch service. As we've said, there are many great catering companies, so don't be afraid to ask around and do some research on your own. We think our tips will help you narrow down your options. Remember that the best way to find a company that works well for your needs is simply by trying them out.