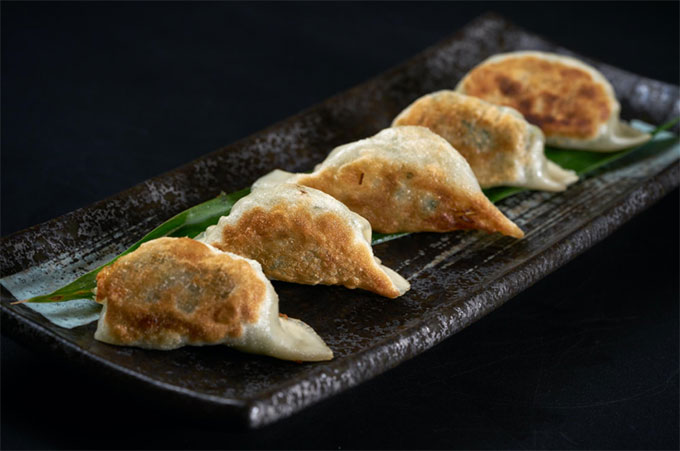 Dumplings – delightful pockets of dough filled with savory or sweet fillings that have captured the hearts and taste buds of people around the world. With countless variations, these bite-sized parcels can be found in cultures across the globe, offering a universal joy that unites food lovers everywhere. This culinary guide delves into the enticing world of dumplings, exploring their origins, preparation, cooking techniques, and mouthwatering recipes.
An exciting and interactive way to enjoy the diverse world of dumplings is by hosting a dumpling party with friends and family, where everyone can try their hand at preparing and trying different types of dumplings from around the world. Alternatively, if you prefer a professional touch, you can consider hiring a private chef to impress your guests with a carefully curated dumpling-themed menu that showcases a range of flavors, textures, and aromas.
The Origin of Dumplings
The history of dumplings can be traced back thousands of years, with each culture creating its unique version. Some historians believe the first dumplings were made in China over 1,800 years ago. Others argue that dumplings share a common origin with filled pastries, which date back to ancient Mesopotamia and Egypt. Regardless of their beginnings, dumplings have evolved over time and become a versatile and cherished staple in many cuisines.
Dough Preparation
The foundation of any dumpling is its dough, which can vary depending on the country and cooking method. Wheat flour dough is commonly used for Jiaozi, Gyoza, and Pierogi. This versatile dough consists of wheat flour and water and is kneaded until smooth and elastic. Shortcrust pastry is a tender and flaky dough composed of flour, cold butter, and a bit of water, ideal for samosa and empanadas. Fresh pasta dough is also an option. A mixture of flour, eggs, and sometimes olive oil, creates a soft, delicate base for ravioli and tortellini.
Types of Dumplings
There are countless variations of dumplings across the world, differing in elements such as dough, fillings, cooking methods, and even what the locals call them. Here are a few popular types:
Chinese Jiaozi: Crescent-shaped dumplings filled with meats and vegetables, usually enjoyed in a dip made from soy sauce and vinegar
Polish Pierogi: Half-moon dumplings filled with potato, cheese, meat, or fruit, enjoyed boiled or pan-fried
Indian Samosa: Triangular pastry filled with spiced potatoes, peas, or lentils, typically deep-fried and served with chutneys
Italian Ravioli: Square pockets of pasta filled with different combinations of meat, cheese, or vegetables, typically served with a sauce
Japanese Gyoza: Crescent-shaped dumplings filled with ingredients like pork, cabbage, and garlic, often pan-fried until crisp
Filling Ideas
Fillings are where the true essence of a dumpling comes to life. While there are countless traditional and fusion recipes, a few creative filling ideas include spicy Thai chicken with coconut milk and fresh cilantro, butternut squash, sage, and ricotta cheese for a vegetarian twist on ravioli, southwestern-style black beans, corn, and pepper jack cheese, or dark chocolate ganache with a tart raspberry coulis.
Cooking Techniques
The cooking method plays a significant role in the texture and flavor of the final product. Some popular techniques include:
Boiling: A staple for pierogi and Jiaozi, boiling creates a tender and soft texture.
Pan-frying: Used for Gyoza and some pierogi recipes, pan-frying gives a crispy bottom with a slightly chewy top.
Deep-frying: Great for samosas and empanadas, deep frying produces a crispy, golden outer shell.
Steaming: Common for dim sum-style dumplings, steaming results in a delicate, moist, and delicate bite.
Sauces and Condiments
Accompaniments can elevate a dumpling dish to a whole new level. Traditionally, dipping sauces and condiments are used to enhance the flavor profile of the dumplings. These can range from tangy, spicy, sweet, or savory, and are typically specific to the regional cuisine. Here are a few examples:
Chili oil: A fiery and fragrant condiment, popular in Sichuan cuisine, that adds a punch to Jiaozi or Wontons
Soy-vinegar dip: A balanced blend of savory soy sauce and tangy vinegar, often combined with garlic and ginger, ideal for dipping Gyoza or Jiaozi
Sour cream: Creaminess that complements the hearty fillings of Polish pierogi
Marinara sauce: A classic tomato sauce to pair with Italian ravioli, adding a burst of freshness and acidity
Regional Festivals
Many cultures have annual celebrations to highlight their love for their local dumpling varieties: from the Chinese Dumpling Festival, celebrated with the traditional rice dumplings called zongzi during the Dragon Boat Festival, to the pierogi festival in Poland known as Pierogi Fest, bringing people together to sample different varieties and honor this beloved dish. These gatherings showcase the joy and importance of dumpling-making in different societies around the world and serve as a channel to promote culinary exchange among various communities.
Healthier Alternatives
While some dumplings can be high in calories and fat, healthier alternatives exist to enjoy these delicious morsels guilt-free. Opting for whole wheat or gluten-free dough, using lean meats or plant-based fillings, and choosing steamed or boiled preparation methods are some ways to transform traditional dumplings into lighter and more nourishing dishes. Additionally, incorporating a range of vegetables in the fillings and using vegetable purees to create vibrant and flavorful sauces without excessive oil or salt can contribute to a healthier dumpling experience.
Conclusion
From their rich history to their boundless creativity, dumplings are a culinary adventure waiting to be explored. By understanding their doughs, fillings, and cooking techniques, you too can embark on a journey of discovering delectable dumplings and creating your unique pockets of pure bliss.