Decadent chocolate cupcakes stuffed with homemade raspberry filling and topped with chocolate buttercream frosting!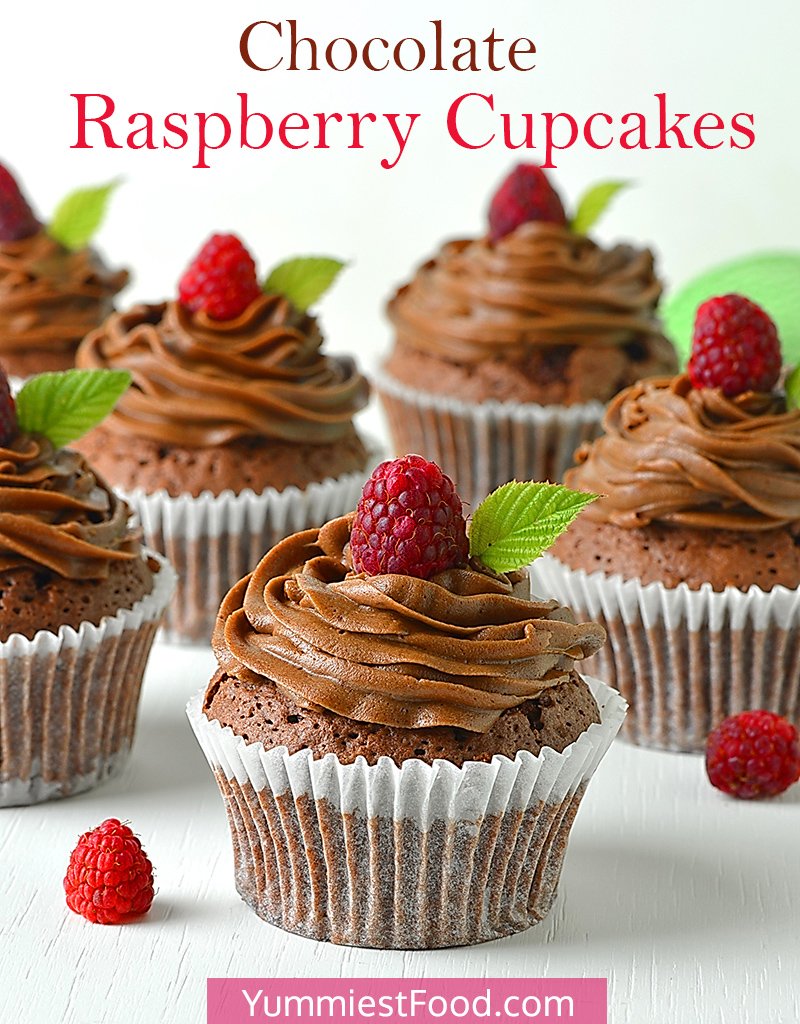 These Chocolate Raspberry Cupcakes are absolutely to die for!
There's something undeniably magical about the pairing of chocolate and raspberry. I'd go as far to say that they take the cake.
From the easy-to-make, rich, and moist chocolate cupcakes, to the perfectly tart raspberry-filled centers, this dessert won't let you down in the least bit!
Here are some tips I like to follow that have helped me bake fluffy, moist and similar-sized cupcakes:
Do not over bake or you risk cupcakes becoming dry
Do not open your oven until they're almost ready, changes in temperature too early could mess with your cupcakes
Use room temperature ingredients
To bake similar-sized and homogeneous cupcakes use an ice cream scoop to fill them with the same amount every time
Always frost your cupcakes when completely cooled, to avoid frosting from melting
Storing and serving:
Chocolate raspberry cupcakes can be stored in an airtight container in the refrigerator for up to 5 days. To serve, bring the cupcakes to room temperature to soften the buttercream and to have the best taste and texture.
These little delights are the ultimate treat, combining the velvety richness of chocolate with the tantalizing tanginess of fresh homemade raspberry filling. These cupcakes are perfect for birthdays, special occasions, or any time you need a little pick-me-up! Enjoy!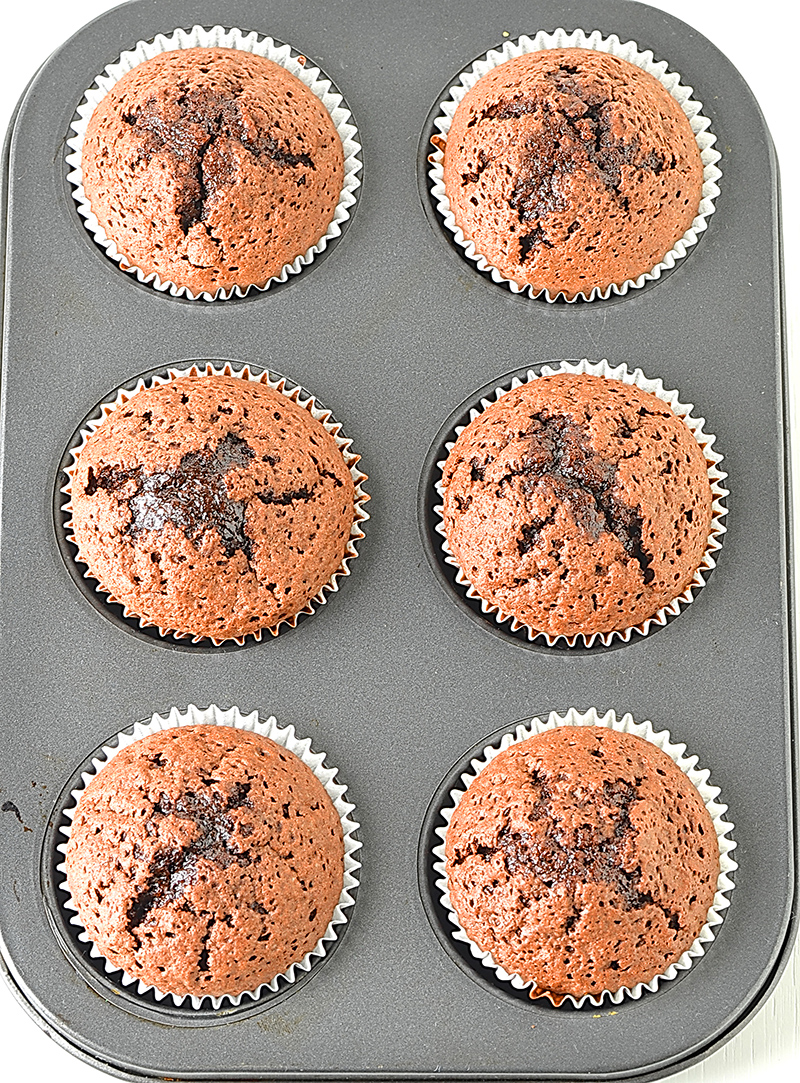 Chocolate Raspberry Cupcakes Recipe
Prep time:
Cook time:
Total time:
Decadent chocolate cupcakes stuffed with homemade raspberry filling and topped with chocolate buttercream frosting!
Ingredients
For Raspberry Filling:
2 cups fresh raspberries
¼ cup sugar
1 tablespoon cornstarch
2 teaspoons water
For the Chocolate Cupcakes:
1 cup all-purpose flour spooned and leveled
½ cup cocoa powder
¾ teaspoon baking soda
½ teaspoon baking powder
¼ teaspoon salt
¼ cup vegetable oil
1 cup granulated sugar
1 large egg, room temperature
1 teaspoons vanilla extract
½ cup buttermilk room temperature
⅓ cup coffee freshly brewed, or boiling water
For Chocolate Buttercream Frosting:
1 cup unsalted butter, softened to room temperature
3-4 cups powdered, sugar sifted
¾ cup cocoa powder, sifted
2 teaspoons vanilla extract
½ teaspoon salt
3-4 tablespoons whipping cream or milk
Fresh Raspberries, optional for decorating
Instructions
To make Raspberry Filling:
Combine the sugar, cornstarch and water in a medium-sized saucepan over medium heat and stir to combine
Heat until the mixture is wet and the sugar begins to melt
Add the raspberries and stir to coat with the sugar mixture
Continue to cook until the raspberries start to soften and let out juice
Remove from heat when raspberry juice has begun to thicken about 5 minutes
Pour the mixture into another bowl and refrigerate until cool
To make Chocolate Cupcakes:
Preheat the oven to 350 degrees. Line a cupcake pan with 12 liners and set aside
In a large bowl whisk together the flour, cocoa, baking powder, baking soda, salt and sugar
In a separate large bowl whisk together the oil, egg, vanilla extract and milk
When finished, you should no longer see any pieces of egg
Make a well in the middle of the dry ingredients and pour the wet ingredients into the well, whisk together
Once the batter is mixed, carefully pour in the hot coffee or boiling water and whisk everything together until smooth
Spoon the batter into the prepared cupcake pan, filling each about ½ full. You should end up with 11 or 12 cupcakes
Bake 1 tray at a time on the middle rack of the preheated oven for 18-20 minutes, or until the tops feel slightly firm to the touch and an inserted toothpick comes out clean
Let cool in the pan for 10-20 minutes then transfer to a wire rack to continue cooling
Once cooled, use a small sharp knife to carve out a small hole in the center of each cupcake; do not discard the carved out cake piece.
Fill each hole with two teaspoons of Raspberry filling, then cover again with the carved out cupcake piece, set aside and make the chocolate buttercream frosting.
To make Chocolate Buttercream frosting:
In a large bowl using a stand or hand-held electric mixer, beat the butter until fluffy.
Add in 2 cups powdered sugar, vanilla extract and salt and beat until combined starting with the mixer on a low speed.
Turn the mixer down to low speed and beat in the cocoa powder. If lumpy, be sure to sift the cocoa first.
Beat in the rest of the powdered sugar about ½ cup at a time, alternating with 1 tablespoon cream until the desired sweetness and thickness is reached
Frost the cupcakes using a piping bag and your favorite cupcake piping tip or a flat edge knife add raspberries on top if desired