Cantaloupes are not known as a show-stopping ingredient, or just a snack in itself. In 2020, the US FDA did an extensive cantaloupe recall over six states due to potential salmonella contamination. However, such food product recalls do not take away from the proven benefits of the fruit. It packs more than what many are aware of.
History
Cantaloupe goes by different names in different cultures and places. For instance, South Africans refer to it as spanspek. Meanwhile, in New Zealand and Australia, they call the fruit rockmelon. But it is scientifically classified as Cucumis melo, a variety of the muskmelon species.
The term cantaloupe was coined in the 18th century. It was derived from a papal county seat near Rome, after its first introduction from Armenia. While nothing is confirmed, many believe its origins came from a region between South Asia and Africa.
Now, China provides more than half of the melon production worldwide which includes cantaloupes. Other temperate countries also produce them, with the US as the 5th largest producer.
Taste Profile
Ripe cantaloupe is sweet and has floral notes to it. Its meat holds a rich and delicate texture. And you know it's aptly ripe when the sweetness takes over and has no hints of sour or bitter flavors. Just like other fruits, unripe ones have not yielded enough sweetness and are crunchier in texture. Although they can get mushy and meal when overripe, some people prefer the fruit a little over its peak since cantaloupes get juicer as they age.
Health Benefits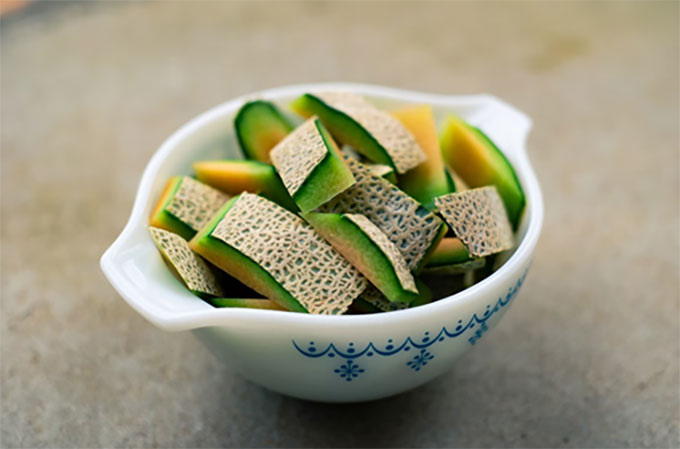 Cantaloupes offer a ton of benefits to the human body. Each serving contains several types of antioxidants, namely beta-carotene, cryptoxanthin, lutein, and zeaxanthin.
They fight off cancer-causing free radicals apart from their anti-inflammatory properties. Lutein and zeaxanthin also play a role in your eye health, preventing age-related macular degeneration.
A cup can also cover 79 percent of your daily Vitamin C needs. This nutrient is vital to the body's healing and buffing up of the immune system. The same amount also packs some potassium, 427 milligrams to be exact. Potassium can come in handy especially to active people as it helps with muscle contraction and heartbeat regulation.
It also supports gut health, as one serving contains five percent of your recommended daily fiber intake. Worried about its carbs? More than 90% of the fruit is water helping with hydration and eventually healthy digestion. You can also worry less about its sugar since cantaloupes relatively contain low content amounting to 13 grams per cup.
Ways to Eat
While its flavor profile is distinct, cantaloupes prove themselves as a versatile fruit. There are more ways than one to make your cantaloupe experience fresh and interesting. Hence, here are some recipe and preparation ideas you can try apart from your usual fruit salad.
Drinks
If you want a quick fix, a sweet drink won't cost you a lot of effort. Infuse the melon flavor into the water by simply adding thin slices of ripe fruit into a glass of iced water. The great thing about this recipe is you can conveniently add ingredients to elevate the drink. You can add honey for extra sweetness and milk for a more filling experience. You can also add other fruits or herbs like basil and watermelon.
Cantaloupes can also serve as a great partner to some alcohol. Make your cocktail more interesting by pureeing the melon with lemon juice and apple cider, then mix it up with your ice-cold gin.
Sorbet
If you want the rich cantaloupe flavor in a dessert, sorbet is a great way to go. Frozen pureed cantaloupe has a delightfully creamy texture that mimics an ice cream. You'll only need a cup of sugar and a cup of water apart from one large fruit.
Boil the sugar and water until it slightly thickens, and puree your fruit in a blender. Gradually incorporate the sugar mixture into the blended fruit, and let it sit on your fridge for at least an hour. The mixture can taste overly sweet during the process, but it will lose this as it freezes.
Grilled Pasta Salad
Who says you can't make savory dishes with cantaloupes? The fruity sweetness adds a new flavor profile to your pasta meal.
First, cook 4 ounces of sliced prosciutto in olive oil over medium heat until brown and crispy. Then, grill half of a cantaloupe cut into wedges with rind removed in high heat until slightly caramelized. Once done, cut them into bite-size shapes. Mix these with your protein, a pound of cooked pasta, and dressing of choice.
Salsa
If you want a refreshing burst of flavor in your salsa, cantaloupe will do just the trick. This mix can go with anything – from salads to burrito bowls. And it is just a breeze to put together.
You will only need 2 cups of diced cantaloupe, a quarter cup each of diced red onion and fresh cilantro, minced medium jalapeno, and a couple of tablespoons of lime juice. Put all ingredients in a bowl and toss to incorporate. Lastly, add sea salt according to your preference.
Soup
Fruits are a go-to to cool up your summers. And a chilled bowl of cantaloupe soup will make your summer party menu fresher than ever.
To make it, you will need three packed cups of sliced cantaloupe meat. Puree these on a blender with three juiced lemons and a cup of sparkling cider until the texture is smooth. You may also add sugar if you prefer a hint of sweetness. If the texture is thicker than you want, add a quarter cup of cold water.
After the mixture is well incorporated, place it in a bowl that will fit in a bigger one. In the latter, you'll place ice cubes and cold water to make for the ice bath of the soup. To hasten the chilling process, store it in the fridge until ready. When serving, top the soup with salt and pepper-seasoned diced cucumber to add a bit of crunch to your meal.