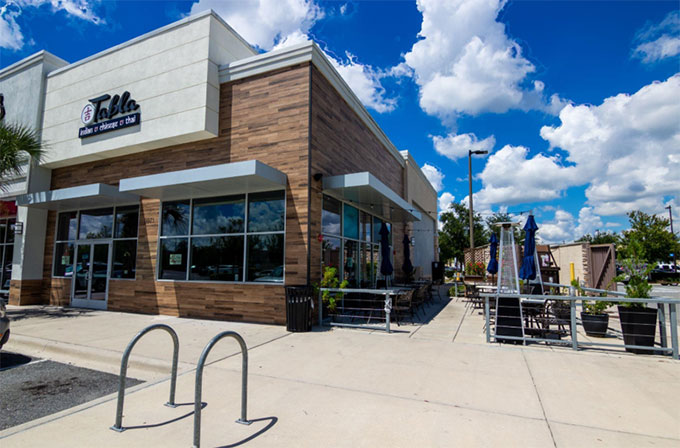 Are you a foodie who loves to explore different cuisines? If you're the one who loves to try different cuisines, you cannot miss out on authentic Indian cuisine.
Indian cuisine is flavorful and diverse and has something to offer everyone. From spicy street food to rich curries, Indian cuisine is a delight for the taste buds. The combination of different spices in Indian cooking creates a unique and complex flavor that cannot be found in any other cuisine. One of the highlights of Indian cuisine is that it is cooked from fresh ingredients; nothing frozen is used in it. It is also known for its vibrant colors, aromas, and textures.
Want to try authentic Indian cuisine in Lake Nona? In this post, we will introduce you to a hidden gem. This authentic Indian restaurant is sure to become your new favorite spot.
The Best Indian Restaurant in Lake Nona Near You
The restaurant we are talking about is none other than "Tabla Indian Restaurant." Located in Lake Nona, this restaurant offers a variety of Indian delicacies that will leave you wanting more. From traditional curries to tandoori dishes, there is something for everyone at Tabla Indian Restaurant.
One of the highlights of this restaurant is its ambiance. As soon as you step inside, you will be transported to India with its colorful decor, and elegant lighting in the background. The friendly staff is always ready to welcome you with a smile and guide you through the menu.
What's on Tabla's menu?
Speaking of the menu, let's talk about the food. The chefs at Tabla Indian Restaurant have perfected the art of using spices to create flavors that are both authentic and delicious. Their butter chicken is a must-try dish that will make your taste buds dance with joy. The naan bread is freshly made and pairs perfectly with the curries. If you are a vegetarian, do not worry, they have a wide range of vegetarian options that are equally mouth-watering.
If you are looking for a new experience, you must try their office lunch box. From Chinese to Thai to Indian cuisine, Tabla's appetizing lunch boxes have something for everyone. They also offer numerous gluten-free, vegetarian, non-vegetarian, and vegan choices.
Tabla Indian Restaurant also offers catering services, making it a great choice for events and parties. They can create customized menus to fit your needs and budget. The restaurant has ample seating space and a patio for outdoor seating.
Whether you're in the mood for Chicken Tandoori, Rogan Josh, Chicken Boti Kebab, or the restaurant's signature Tabla's Mix grill, you won't be able to resist licking your fingers after every bite. Every dish is made with the freshest ingredients and cooked to perfection, ensuring that each bite is bursting with flavor. Come experience the perfect blend of elegance and taste at this delightful restaurant.
Which are the Must dishes in Indian cuisine?
If you have not tried authentic Indian cuisine yet, you are missing out on a world of flavors. Some of the must-try dishes in Indian cuisine include butter chicken, biryani, samosas, and chaat. Vegetarians can also enjoy a wide range of dishes, including paneer tikka, chana masala, and dal makhani.
Indian cuisine has gained popularity worldwide and is now widely available in many countries. However, it is essential to find an authentic Indian restaurant nearby that uses traditional cooking techniques and high-quality ingredients to truly experience the flavors of Indian cuisine.
Final Words
If you're looking for a restaurant that offers authentic Indian, Thai, and Chinese cuisine in Lake Nona, then look no further! With 15+ years of expertise in the finest restaurants, Tabla Indian Restaurant is always excited to present its creations to you. Their dishes are visually appealing and complemented by delicate flavors that will tantalize your taste buds and senses.
Frequently Asked Questions
1. Does Tabla Indian Restaurant in Lake Nona offer takeout?
Yes, Tabla Indian Restaurant in Lake Nona offers takeout services for customers who prefer to enjoy their meals at home or on the go. You can place your order online or by phone and pick it up at the restaurant at your convenience.
2. Where is Tabla Indian Restaurant located in Lake Nona?
Tabla Indian Restaurant is in Lake Nona at 10783 Narcoossee Rd., Orlando, FL 32832, United States.
3. Which are some must-try Indian appetizers?
There are many delicious Indian appetizers to try, but here are some popular ones: Vegetable Samosas, Chaat, Chicken Tikka, Seekh Kebab, Tandoori Chicken, and Aloo Tikki.