One of the best ways to communicate clarity is by penning it. Use sophisticated words and build a structure that expresses a complex idea simply and effectively. A food college essay can be many things. But the most notable feature is that it opens a portal inside the reader's mind and brings them through an adventure they will relish for a long period. The best college application paper on cuisine creates an emotional journey, builds imagination, and appeals to the five senses. If you've never had luck drafting a captivating article on food, follow these tips for writing university application essays.
The 3 pillars of persuasive communication
Cooking varies by culture, with different cooking techniques, recipes, and ingredients. Interestingly, your cuisine article can be persuasive, informative, or anything you want. We always recommend you check the requirement before starting your project for the right tone and angle. Let's review online services to write college essays for you and ease your stress or do it yourself. That said, cooking is a personal topic. As a result, it is a great way to connect with people. If you want to persuade your reader, understand the three pillars of persuasive writing:
Ethos
Make your claim more believable so your reader can evaluate your opinion in terms of trustworthiness. Describe more than one opinion and provide counterarguments to show you are knowledgeable. You must also demonstrate expertise in the field.
Pathos
This is where you must lean into the most for your paper. Pathos appeals to emotion by describing the meal in an expressive and relatable way. The goal is to create vivid images that draw the reader into an experience. Share personal stories and relatable facts, and use emotionally charged vocabulary.
Logos
Logos is the opposite of pathos. Instead of appealing only to your reader's emotion, you extend it to their logic. Support your arguments with facts for attractiveness. Use comparison, examples, and cause-and-effect relationships to convey your idea.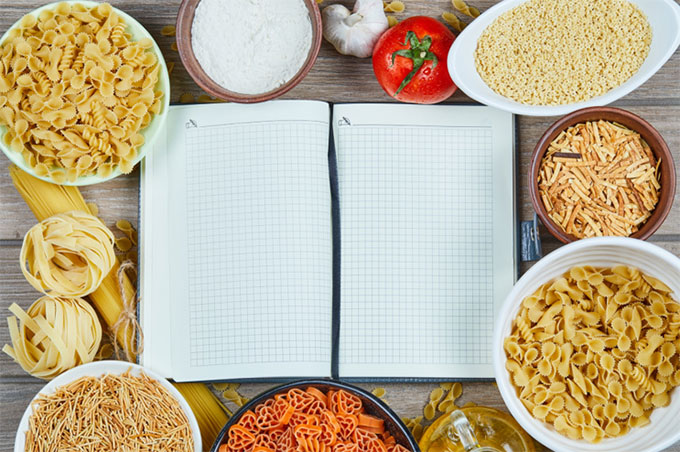 Choose an interesting topic
Choosing the topic is the first step in drafting an article. If your professor does not give you a topic, you must research one yourself. Bear in mind that it must be engaging since it determines the flow of your article. We recommend you review different research topics on food and pick a suitable one. Some angles include meal disorders, safety and technology, cooking and nutrition, vegan and veganism, etc.
Draft in first person point of view
One of the channels of creating an immersive experience is using a first-person narrative. This point of view allows you to tell your story, not someone else's. Use first-person pronouns like we, us, my, me, and I so your audience see the story play out through their eyes. Let us show you a relatable difference between two perspectives and how it affects the quality of your article delivery:
Third-person. Dan wrote that he loves cooking because it is calming and allows him to experiment with different ingredients.
First-person. I find cooking calming, and every time I grab the spoon is an opportunity to experiment and create something unique. Cooking and feeding others is my way of expressing emotions I could never describe. Like magic, cooking delicious meals lets me channel my superpower. I can also be alone and bring myself closer to those I love.
The first-person narrative takes the reader through the action, so they imagine experiencing it as if it were theirs.
Draft in the present tense
We use past tense verbs to relate to things that happened in the past. But if you want your reader closer to a developing story, we recommend you use present tenses. Let us examine a couple of ideas you should use:
Cooking is a routine that allows idle musing and an escape from isolation stress. Even as I stir a sauce, I can ponder on topics I've not had time to think of. Although the cooking process is enjoyable, I relish the pleasure of other people eating and enjoying my meal. 
Use present tense to discuss your idea, work, or course of action. But if you must explain sceneries using multiple tenses, make smooth transitions. This way, you don't lose clarity in your work and confuse the reader.
Encourage your readers to use their imagination
If you want your audience to see an action you're describing, use sensory languages that appeal to the five senses. For example, I stand by the fridge, a cup of warm tea in my hands, and allow the aroma of fresh-baked bread to fill the room. Sensually appealing content causes readers to imagine your details and put themselves in your shoes.
Conclusion
As cooking is good for the soul, a good article provides a window that brings the reader through a fascinating experience. Instead of discussing technicalities like referencing, formatting, and structure, we have provided tips to help you build and create an emotional journey for your reader. Engage the five senses and tease your readers to imagine themselves in your position, and you will have better luck scoring a win. We recommend you use strong verbs and vivid adjectives and do your best to stay on topic.