These cookies have a rich brownie fudge taste that truly elevates this cookie-like nothing you have ever had before. They will be one of the first cookies to disappear off your holiday cookie tray. I absolutely love peppermint and chocolate together. They were totally created for each other.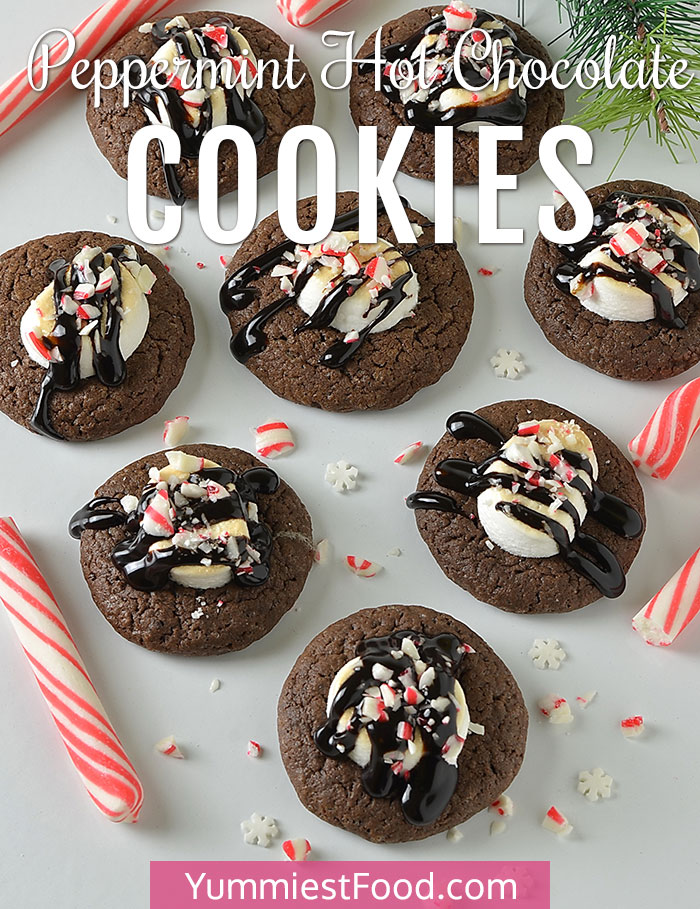 How to Make Hot Chocolate Cookies?
These cookies are so easy to make, gather your ingredients combine all of the dry ingredients, and then add in all of the wet ingredients
Use a tablespoon or scoop dough to scoop the dough at the time and roll the dough in your hand to create balls then transfer to a baking sheet with parchment paper or a silicone baking mat, spacing cookies 2-inches apart
Bake them for 10-12 minutes add marshmallow on top and bake them for a couple more minutes
Cool cookies on pan for several minutes then transfer cookies to wire racks and set wire racks over baking sheets
Next, you make the icing:
In a medium bowl, whisk all ingredients and mix together until well combined
Spoon a small amount of icing onto the top of each cookie and finally, add holiday crushed peppermint candies on top of each cookie and they are ready to go!
I can't imagine Christmas without these lovely sweet chocolate cookies.
If you are looking for a cookie to take your Christmas cookie exchange party or a cookie to give to your family and friends this holiday season, I highly recommend these Peppermint Hot Chocolate Cookies.
They are festive and are guaranteed to be everyone's new favorite holiday cookie. Happy baking! Enjoy!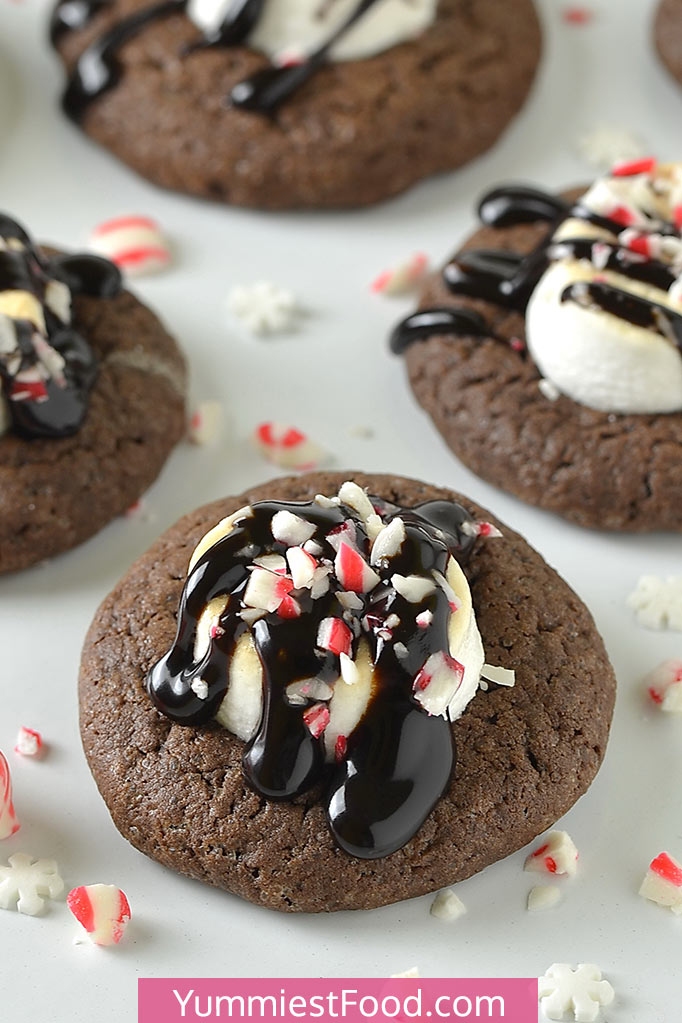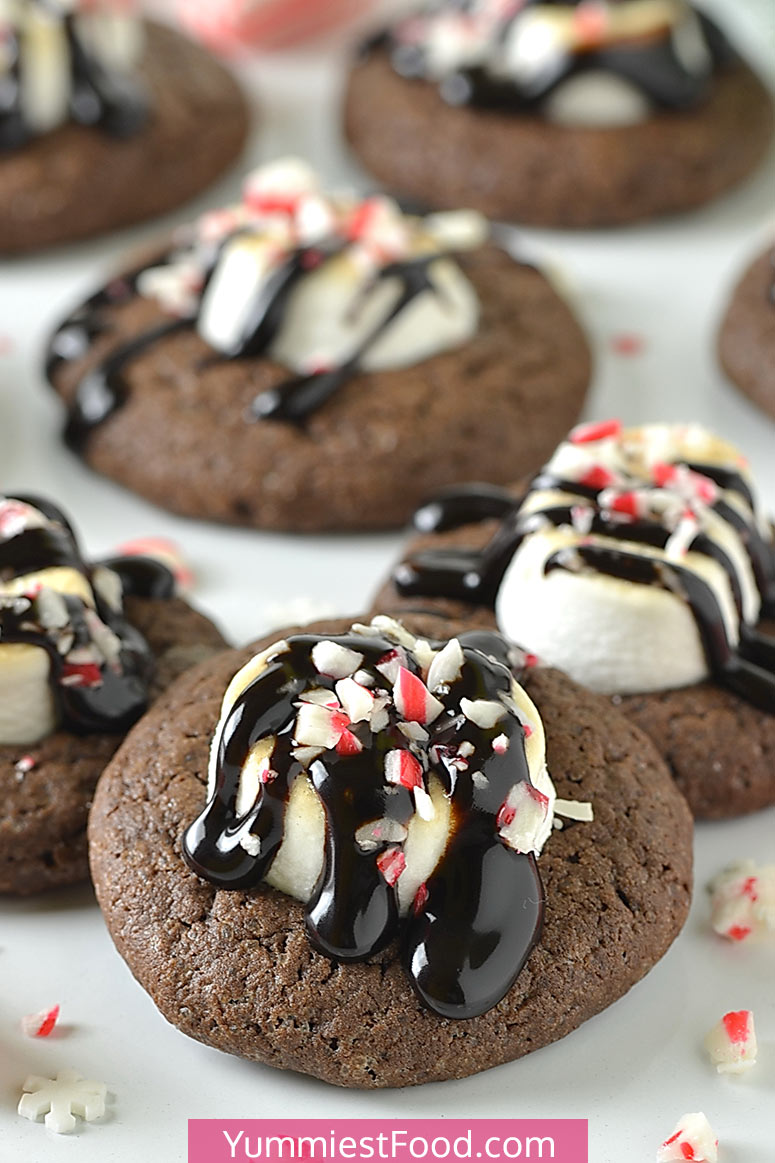 Peppermint Hot Chocolate Cookies Recipe
Recipe type:
Christmas, Dessert, Cookies, Christmas Cookies
Prep time:
Cook time:
Total time:
Peppermint Hot Chocolate Cookies are the perfect treat to have on hand during the Holiday season! Decadently rich peppermint chocolate cookies with a lot of chocolate, melted marshmallows stacked on top with chocolate icing and crushed candy cane!
Ingredients
For the cookies:
½ cup unsalted butter
12 oz semi-sweet chocolate
1½ cups flour
¼ cup unsweetened cocoa powder
1 ½ teaspoons baking powder
¼ teaspoon salt
1 ¼ cups brown sugar
3 eggs
1 teaspoon peppermint extract
1 teaspoon vanilla extract
24 large marshmallows, approximately
For the icing:
2 cups powdered sugar
¼ cup cocoa powder
4 tablespoons unsalted butter, melted
¼ cup hot water
½ teaspoon vanilla extract
For garnish:
Crushed peppermint candies or crushed candy cane, optional
Instructions
To make cookies
In a medium saucepan melt butter and chocolate, stirring well until melted and smooth, set aside to cool
In a medium bowl, whisk together flour, cocoa powder, baking powder and salt until combine
In the bowl of an electric mixer, beat brown sugar, eggs, vanilla and peppermint extract on low speed until well combined
Add the cooled chocolate mixture and mix
While mixing, add the flour mixture slowly and blend until just combined
Cover bowl and chill 1 hour or until firm enough to handle
Preheat oven to 325 degrees, line 2 baking sheets with parchment paper or a silicon baking mat
Use a tablespoon or scoop dough to scoop the dough at the time and roll the dough in your hand to create balls then transfer to a baking sheet with parchment paper or a silicon baking mat, spacing cookies 2-inches apart
Bake cookies about 10-12 minutes
While the cookies bake, cut the large marshmallows in half
When cookies have baked, remove from oven and press one marshmallow half cut side down into the center of each cookie
Return the cookies to the oven and bake about 2-3 minutes
Cool cookies on pan several minutes then transfer cookies to wire racks and set wire racks over baking sheets
To make icing:
In a medium bowl, whisk all ingredients and mix together until well combined
Spoon a small amount of icing onto the top of each cookie and sprinkle with crushed peppermint candies before icing dries
Let cookies and icing set for about 30 minutes before serving