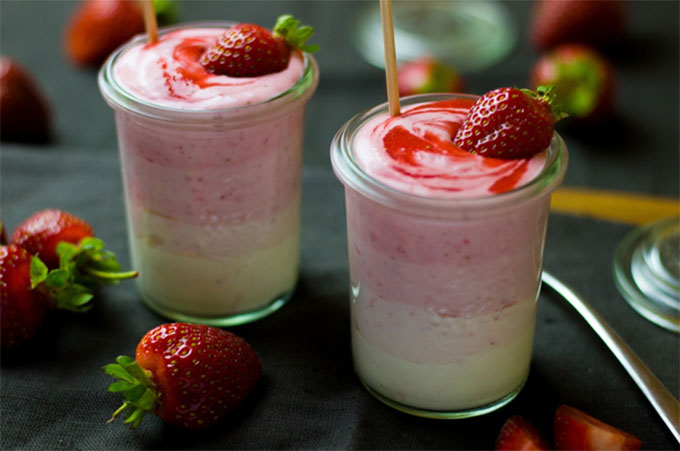 Besides flowers, one of the biggest reasons to look forward to Valentine's day is for the incredible amount of candy and sweets we get to indulge in! I always get excited looking at the candy aisle, waiting for the day after the 14th when they all go on sale. Until that happens, you can make a quick and easy pink parfait recipe to hold you over!
What Makes a Parfait a Parfait?
The word 'parfait' comes from the French word for 'perfect,' which 'perfectly' describes this incredible treat. A parfait refers to a frozen dessert made from a base of eggs, sugar syrup, and cream and contains sugar, fat, and a little bit of alcohol or air interferes and constant stirring to form water crystals. If you don't stir, the ice cream will create a weird texture in your mouth.
In the United States, a parfait is simplified and refers to a layering of ice cream or gelatin and cream in a clear glass and topped with whipped cream and fruit. Sometimes yogurt is involved, and nuts are used instead of fruit, but peaches, blueberries, and strawberries are popular toppers. Today, we'll be making a sweet parfait topped with strawberries!
Why Make One of These Delectable Treats?
While I love to buy myself flowers from a floral arrangement company to commemorate this special day, making food for a loved one or for myself is the true expression of love. You put a lot of time and effort into baking and cooking from scratch, and you get something delicious at the end of it. I ask you, what's better than that?
On top of that, parfaits are easy to make and don't require a lot of prep time and no baking. Most of the ingredients are purchasable from any supermarket, and most of us have a few mason jars or glasses lying around. To truly cut down on time, buy the ice cream, pudding, and chocolate together; you don't have to make pudding or ice cream yourself!
Quick & Easy Pink Parfaits Recipe for Valentine's Day
4 servings, 10 minute prep time, 10 minute cook time, and 10 minutes additional time.
Total time: 30 minutes.
Tip: buy white pudding, yogurt, or ice cream so you can add a few drops of food coloring to the mix that will create layers of dark and light pink foods!
Ingredients
Two 3.9oz. package of instant vanilla pudding
4 cups of milk
Red food coloring
Strawberry syrup
Strawberries
Whipped cream (optional)
1 small bar of chocolate (optional)
* Although whipped cream and chocolate chunks aren't in the picture, you can add them to the top of the parfait for some added flavor!
Instructions
Prepare the vanilla pudding by following the directions on the back of the package. Add 2 cups of milk and stir for one package. Do the same for the other.
Separate the mixture into four parts. Place one of the 4 vanilla pudding mixtures inside the fridge to set for 5-10 minutes.
Take one of the 3 pudding mixtures and add 2 drops of red food coloring until it turns light pink. Place it in the refrigerator to set for 5-10 minutes.
Take one of the 2 pudding mixtures and add 4 drops of red food coloring until it turns pink. Place it in the refrigerator to set for 5-10 minutes.
Take the last pudding mixture and add 6 drops of red food coloring until it turns a deep pink. Place it in the refrigerator to set for 5-10 minutes.
After letting all of the pudding mixtures set, take them out of the fridge and start laying the pudding into 4 wine glasses or mason jars. Fill the jars in a similar way to our photo with a spoon or a disposable pastry bag. Start on the outside and work towards the center in a spiral motion. After each layer, tap the jar to even out each mixture.
Add a drizzle of strawberry syrup on the top, followed by the strawberries.
If desired, finish with a dollop of whipped topping.
If desired, make chocolate curls with a vegetable peeler and place them on top.
This recipe is easily interchangeable with any holiday. For example, you could change two of the pudding mixtures green for an easy to make Christmas treat!