You've probably been told multiple times about the dangers of Teflon coating on your cookware. Experts tend to agree that Teflon is harmless for the most part, until it gets too hot, that's where it gets a bit concerning. But why take the risk?
Luckily, there's a wealth of alternative organic cookware you can use without worrying about any toxic chemicals leaching into your food. That's exactly what we'll be looking at today, so you don't have to overthink about it.
Healthy cookware is as important as healthy food, not just due to the food quality but the health and safety of your family and the environment. Read on till the end to learn about everything you should know when choosing organic pans for cooking.
What Cookware is the safest for Health?
These are the safest organic pots and pans available, and we've included the pros and cons with each one.
1. Cast Iron Cookware
You probably have that cast iron pan your grandmother used to cook food with. Chances are it'll last for several more decades – it's that durable. Cast iron is known for its even-heating capabilities and the distinct flavor it imparts to your food. In fact, that one "special ingredient" is actually healthy for your body, well, unless consumed too much.
Cast-iron can be an excellent non-stick surface once seasoned properly, just make sure to avoid cooking any acidic foods in it. The acidity of the fluids will react with the metal surface potentially damaging the pan and imparting a strong metallic taste to the food.
2. Ceramic Cookware
Ceramic is mostly safe and doesn't potentially emit any harmful fumes, but organic ceramic cookware isn't necessarily made of pure ceramic. Most ceramic pots and pans are actually made of metal and are coated with a non-stick layer, usually clay or silicone.
You also need to know whether the ceramic material is free from toxic metals like lead or cadmium, which might creep in if your ceramic is overly decorated or glazed. But aside from that, ceramic is eco-friendly and totally safe for your health.
Let's discuss the differences between 100% pure ceramic cookware and ceramic-like coating.
a. Ceramic Coated Cookware
As we mentioned, most ceramic cookware is made of a metal base such as aluminium, cast iron or stainless steel, with a thin ceramic coating on top. The coating is usually sol-gel consisting of silica and other chemicals.
This ceramic coating is not completely non-stick like the synthetic ones, and is also prone to degradation when exposed to 500 degrees or higher temperatures. It claims to be much safer than Teflon, however, it's still fairly new and not a lot of research has been done on sol-gel and its effects on food and health.
b. 100% Solid Ceramic Cookware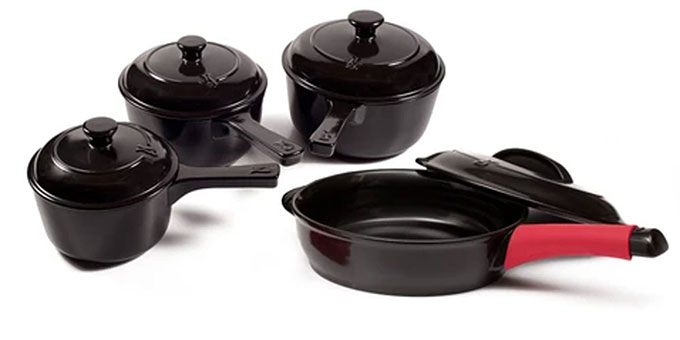 As you might have guessed it, 100% organic ceramic cookware is made from clay, quartz or other minerals which undergo shaping, hardening and often glazing processes. This means no exposure to toxic materials like toxic materials like lead, cadmium, polymers or dies.
As there is no metal base, pure ceramic cookware can be used in the microwave whereas the ceramic coated ones can't. They also have better heat retention after the heat source is turned off.
As far as safety and health is concerned, solid ceramic is the safest pan to cook with, with no fumes or leached materials whatsoever. Once undergone a process called vitrification, they tend to possess some natural non-stick properties and are considered safe for cooking.
Despite their non-reactive properties and safe applications, pots made from pure ceramic are still hard to find. You need to make sure you're getting authentic 100% solid ceramic pans, as the "ceramic-coated" or "100% ceramic" labels are not FDA regulated. Sticking to a reputed brand might solve some of that, but even then, the ceramic cookware will likely cost you more than some alternatives.
3. Stainless Steel Cookware
Stainless steel pots are made up of alloys consisting of different percentages of chromium and nickel. These are quite popular in kitchens these days due to the durable and scratch-resistant construction. Steel is also relatively inexpensive and readily available.
Although we suggest staying away from the lowest-quality stainless steel. If your cookware is scratched, damaged or worn out, there is a chance of these metals leaching into the food. For the same reason you should avoid using abrasives to clean a steel pan. Luckily, most stainless-steel cookware is dishwasher safe and has great scratch and corrosion resistant capabilities.
4. Carbon Steel Cookware
Carbon steel has long been popular in professional kitchens, which is to some extent due to its close relationship with cast iron. Carbon steel is 1-2% carbon and the remaining is iron, which gives the same durability and heat conductivity as cast iron while being much lighter and affordable like stainless steel.
Carbon steel also tends to leach iron into your food in varying amounts, and develops a natural non-stick patina when seasoned or over time. The drawbacks are essentially the same as with cast iron – Reacts to acidic foods, can accumulate rust if not seasoned, and can't put it in the dishwasher.
Is there any unsafe cookware in particular?
Not every organic cookware in the market is safe. No matter how healthy your food is, it can be hazardous if you cook it in a toxic set of cookware. Teflon, and non-stick in general, seems to be talked about a lot when it comes to unsafe cookware, so let's quickly discuss it.
PTFE Coated Non-Stick Cookware (Teflon Coated Cookware)
Non-stick pans do make our lives easier, but there are a couple things you should know about them. Most of these have a coating of polytetrafluoroethylene (PTFE), also known as Teflon. This clear plastic gives them a waxy "non-sticky" surface and also makes them easy to clean.
While harmless during most everyday usage, this material tends to degrade when exposed to higher temperatures (500 degrees F or more), releasing perfluorooctanoic acid (PFOA) fumes into the air, which are actually toxic. This gas can cause a number of health and environment-related issues including chronic kidney/liver diseases, lower birth weight, thyroid disorders and a disease called Polymer fume fever (Teflon flu) in birds.
The good news is, the use of PFOA in Teflon was stopped in 2013, and most modern Teflon cookware doesn't come with PFOA, but it's always better to be safe than sorry. If you're using Teflon cookware, make sure the frying pan doesn't get heated past 450-500 degrees F.
Verdict – What's the safest organic cookware?
There is no such thing as purely "non-toxic", and every material is prone to either leaching, chipping, scratching or chemical activity, but some materials hold up better than others.
Among the choices for organic pots and pans we discussed, 100% ceramic cookware is the safest cookware for health, with almost no risk of toxic fumes or liquids. But they have their own drawbacks of being a bit pricey and require careful handling.
Stainless steel is the most versatile among all, while cast-iron is the old-fashioned heavy-duty material that'll last for many, many generations.
In the end, it totally depends! You likely need a combination of different cookware for convenience, functionally and varying use cases. Now that you've learned about the advantages and disadvantages of each one, you can weigh your needs and environmental factors and decide for yourself.