Easy and delicious Strawberry Coffee Cake is the perfect cake to make during strawberry season. Great with a cup of good coffee!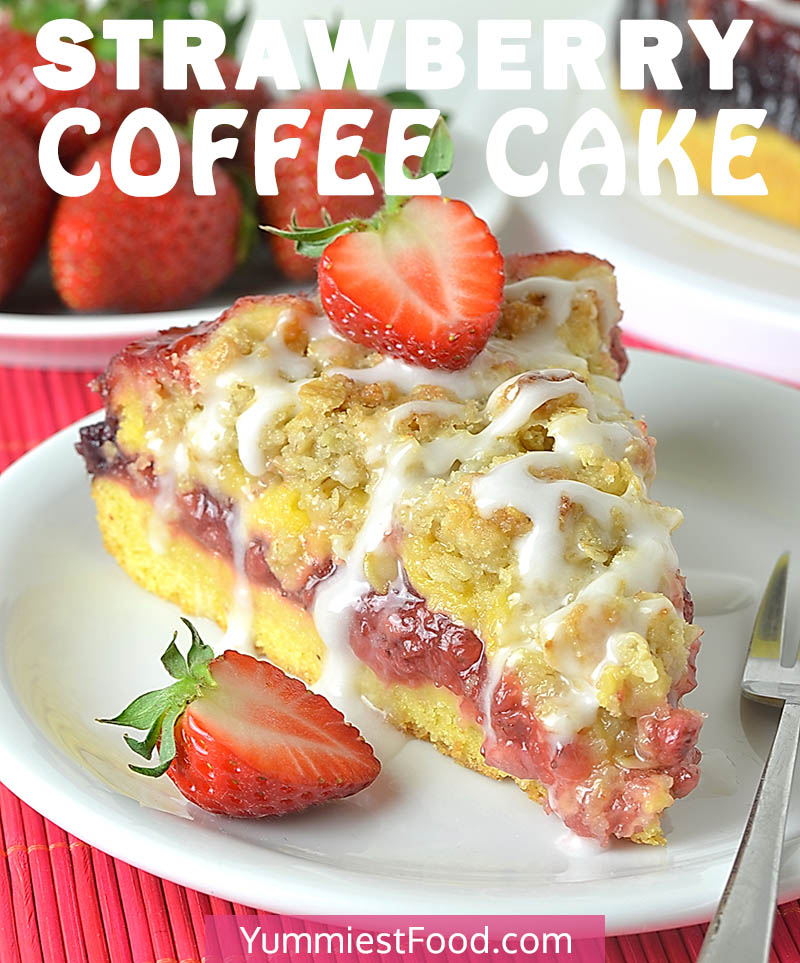 I am pretty sure that every one of us has that favorite Coffee Cake version. My favorite version is for sure this recipe with healthy and tasty strawberries.
My family likes strawberries in every shape so I knew that my husband and children will like this recipe. We like strawberries because they give freshness to every recipe we add them. I also believe that this recipe will be super delicious even with some other fruits apples, raspberries, and blueberries and I also know that I will make it with other fruit for sure.
Why is it called Coffee Cake?
Because it tastes so good with a cup of coffee!
A delicious easy coffee cake recipe that you can make into different flavors by simply using different filling flavors. This is a very easy tender, a moist coffee cake made in a 8-inch springform pan.
What Makes This Strawberry Coffee Cake Recipe Work?
These Strawberry Coffee cakes have lots of flavor from sweet fresh strawberries and a buttery crumb crust and topping.
Why Does This Recipe Work?
Fresh Strawberries – If you have fresh strawberries on hand, use them. The sweet strawberry filling really makes this dessert.
Buttery crumb crust – When combined with the sweet strawberries, this buttery crumb crust makes the Strawberry cake extraordinary.
What Type of Strawberries to Use For Strawberry Coffee Cake?
Fresh – The first and recommended option would be to use fresh strawberries. That is what I used when testing this recipe and they work really well.
Frozen – Some readers have successfully used frozen strawberries, I recommend draining any excess liquid from them before using them in the recipe.
Preserves – A few readers have said they used Strawberry preserves for the filling and loved the cakes. I think that would change the taste and texture some from the original recipe but would still be good.
Can Coffee Cake be Frozen?
Most coffee cake recipes, including this one, can be frozen.
Once the cake has cooled, simply wrap it in aluminum foil or plastic wrap. Then place in a freezer bag, it'll keep for 2 to 3 months.
Strawberry Coffee Cake is a tender breakfast cake, delicious and easy to make. It's very tasty and sweet and the perfect way to start your day! Soft and light coffee cake is topped with a crumbly, buttery streusel overflowing as you pull them out of the oven. Enjoy!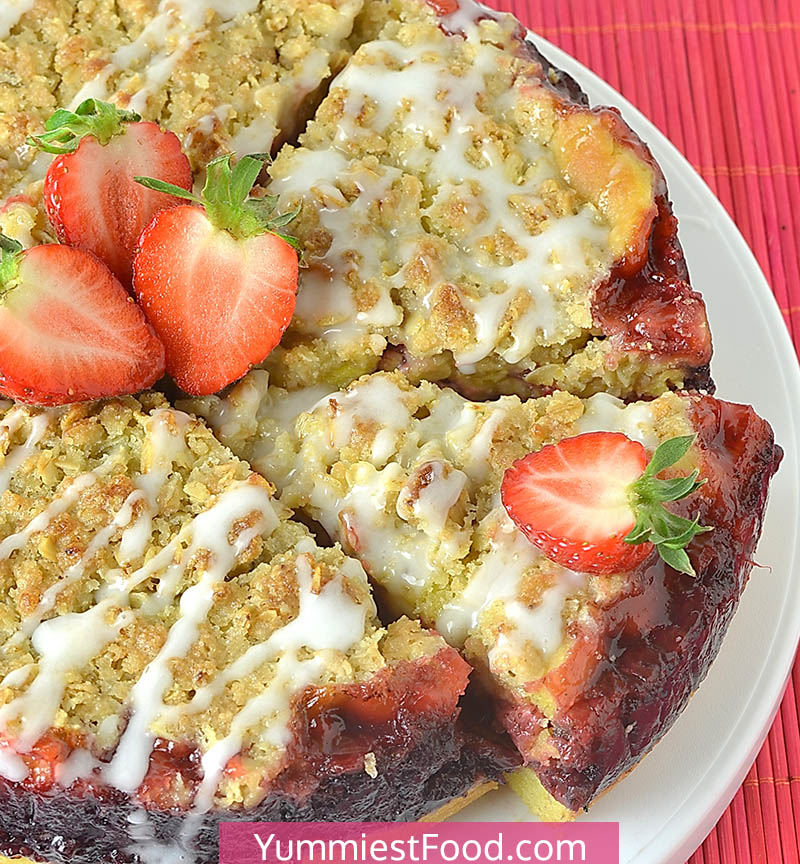 Strawberry Coffee Cake Recipe
Prep time:
Cook time:
Total time:
Easy and delicious Strawberry Coffee Cake is the perfect cake to make during strawberry season. Great with a cup of good coffee!
Ingredients
For the cake:
1½ cups all-purpose flour
4 tablespoons unsalted butter, softened
1 large egg
½ cup brown sugar
1 tablespoon lemon juice
½ cup sour cream or Greek yogurt
1 teaspoon baking powder
½ teaspoon baking soda
Pinch of salt
For the filling:
2 cups fresh strawberries (quartered, divided)
1 cup granulated sugar
3 tablespoons cornstarch
¾ cup water
For the crumb topping:
¾ cup flour
½ cup brown sugar
6 tablespoon butter, chilled and cubed
For the glaze:
½ cup powdered sugar
1 tablespoon lemon juice
Instructions
Preheat the oven to 350F. Grease 8 inch springform pan and line the bottom with parchment paper, set aside
To make crumb topping:
In a medium bowl, combine sugar, flour and chilled cubed butter
Stir with a fork or pastry blender until the mixture is crumbly
Set in the fridge until ready to use
To make filling:
In a medium saucepan, stir together the sugar and cornstarch
Add water and 1 cup of diced strawberries
Over medium heat , bring the mixture to a boil, stirring constantly
Cook and stir 3 minutes until thickened
Remove from the heat and stir in the 1 cup of diced strawberries, set aside
To make cake:
In a large bowl, cream together butter with brown sugar until light and fluffy, add egg and beat well, then add lemon juice and sour cream and beat again
In a separate bowl, stir together flour, baking powder, baking soda and salt and add to the butter mixture, stir until just combined
Spread ⅔ the batter at the bottom of the pan
Spread the strawberry filling evenly over the batter, using a spoon drizzle the remaining batter over the strawberries then sprinkle with the crumb topping
Bake for 40-45 minutes or until tester inserted in the center comes out clean
Before remove the ring of springform pan run a thin knife around the cake
To make the glaze:
Whisk together powdered sugar with lemon juice
Drizzle over the cake and serve