Tie Dye Cheesecake Bars are a great and colorful dessert. This is so fun and unique!
These Cheesecake Bars are a perfect Easter treat and result in creamy cheesecake. The colors are fresh like spring, and the taste is amazing.
Just like my Chewy Spring Oatmeal Cookies, it's the refreshing spring Easter color has me smiling. Well, then the taste hits so perfectly, I love them even more.
If you are bringing a themed treat to the school or want a dessert to bring on those spring feelings, these bars are for you.
How to Make Cheesecake Bars?
They start off with a delicious Golden Oreo base, a fluffy cheesecake layer and it is garnished with colorful sprinkles. These Tie Dye bars are like little miracle squares plus they are so easy to make which is why they are so amazing!
This dessert is so creamy, the base is nice and buttery and not too sweet. The cheesecake layer is so creamy and airy!
How long does cheesecake last in the fridge?
Store your cheesecake in the fridge in an airtight container so it doesn't absorb other odors. Prepared cheesecake can be stored in the fridge for 3 to 4 days.
These super easy No Bake Tie Dye Cheesecake Bars are rich, dense, creamy, and smooth! Perfect for your Easter celebration or any occasion your sweet tooth desires!
I am so happy to share the recipe with you!!
Honestly, I think that this Easter version is the cutest bar ever. Well, I may be biased here because cheesecake is my favorite dessert, but who can blame me, right?
If you have a favorite spring sweet treat to make, let me know in the comments below! Happy Easter and Enjoy!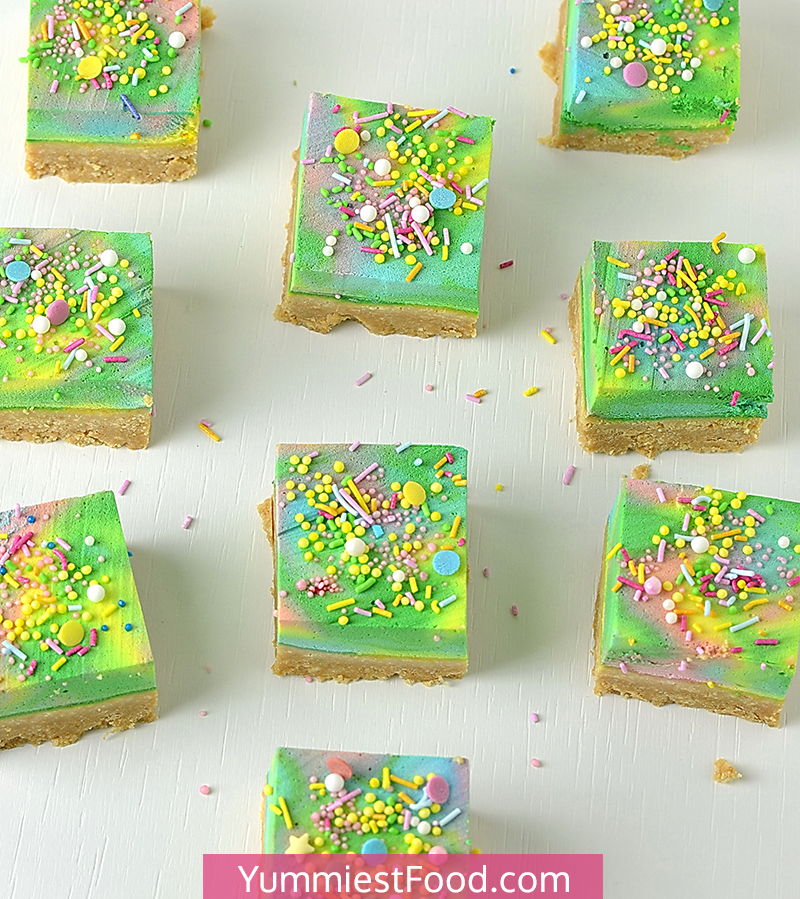 Tie Dye Cheesecake Bars Recipe
Tie Dye Cheesecake Bars are a great and colorful dessert. This is so fun and unique!
Ingredients
For the crust:
2 ½ cups Golden Oreo cookie crumbs, about 26 Oreo cookies
6 tablespoons unsalted butter, melted
For the cheesecake:
16 oz. cream cheese, softened
1 cup powdered sugar
2 cups heavy cream
1 teaspoon vanilla extract
Green, yellow, pink and blue food coloring
For Garnish:
Instructions
To make crust:
Finely crush the cookies in a food processor, add melted butter and blend until it is all moistened
Press crumb mixture onto bottom of the prepared 9x9-inch square pan with aluminum foil leaving an overhang on each side for easy removal. Lightly grease the edges of the pan with cooking spray, set in the freezer to firm while making cheesecake layer
To make cheesecake filling:
In a medium bowl, mix cream cheese and sugar until smooth and creamy, set aside
In separate bowl whip heavy cream until soft peaks form add vanilla extract and continue mixing until stiff peaks form
Add cream cheese mixture into beaten heavy cream and mix on low speed just to combine
Divide the mixture into 4 equal portions and add a few drops of food coloring in each bowl, and stir well.
Using a spoon, make small droops of each mixture in the bottom
I suggest you to drop one color at the time leaving a few inches apart between the drops, then make the drops with second color, then the third, then the fourth, until you cover the bottom of the pans. Repeat with another colors (making sure you evenly distribute them) until you reach the top of the square pan.
Using a toothpick, swirl the colors to create the tie-dye look
Refrigerate for at least 3-4 hours or until set
When the cheesecake is completely set, pull the overhang of the foil to lift the cheesecake from the pan and transfer onto cutting board
Cut and garnish with sprinkles