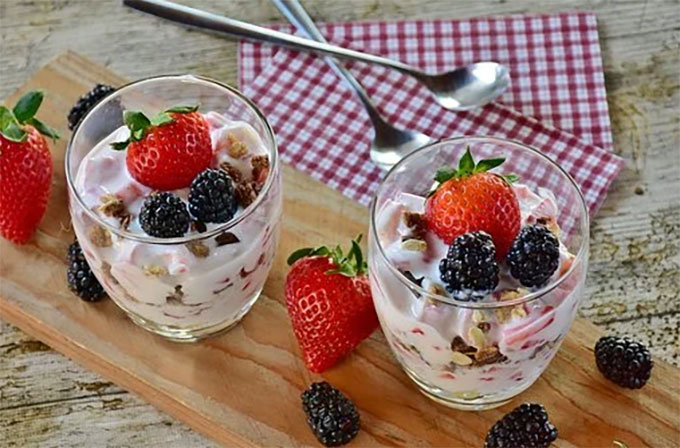 With today's busy family schedules, it's hard to imagine having any extra time to create a delicious dessert treat for your family in the middle of the week. The great news is, there are many easy-to-make desserts that take no time at all in the kitchen and will be a big hit with your whole family.
Most parents are lucky if they have the energy to cook a main meal, let alone the extra work that it takes to create a family dessert. With some of these delicious recipes, you can create yummy treats in just minutes, leaving your family begging for more.
Whether you want to try an easy rice pudding recipe or some no-bake cookies, there are lots of options for families that enjoy their sweet treats but are short on time. Let's take a look at a few easy and simple dessert ideas for you to try.
Mug Cake
One of the most unique additions to your family's favorite desserts is sure to be this rich and fudgy mug cake. If you only have five minutes to spare, you can whip up these cups full of chocolate heaven and still have time to spare. This recipe has been designed to be easy to follow and even distribute all ingredients measuring two tablespoons per piece. Get this rich and creamy dessert recipe here.
No-Bowl Applesauce Cake
This quick and easy dessert is so simple to make that you don't even need a bowl to mix your ingredients. You can create this healthy and tasty treat for the whole family to enjoy in just minutes. This dessert has healthy ingredients, including greek yogurt instead of sugary icing to suit your sweet tooth. Get the recipe here.
No-Bake Chocolate Oatmeal Cookies
Most families would love to enjoy freshly made cookies but don't have the time to invest in the kitchen. With these scrumptious no-bake cookies, you can get the job done in just a few minutes. Choose the Chocolate Oatmeal variety or switch things up with another no-bake recipe.
Edible Cookie Dough
We all love to lick the spoon when someone is busy making cookies in the kitchen. What if you could stop there and forget about the time it actually takes to bake the delicious dough? You can create safe-to-eat edible cookie dough in just a few minutes for your whole family to enjoy. Get the recipe here.
Yogurt Fruit Cups
If you are trying to stay on a healthier track this year, your dessert choices may seem limited. In fact, there are dozens of fruity and healthy recipes for you to explore. One of the easiest and quickest fruit dessert recipes can be made in just a few minutes. Simply cut up a variety of your favorite foods, add them to small bowls and cover them with a scoop of rich Greek yogurt. You can lightly sprinkle brown sugar on top for an extra hit of sweetness.
Just because it may be Wednesday and your mid-week calendar is packed to the brim doesn't mean that you and your family can't enjoy a decadent dessert with your dinner. Try some of these easy and quick dessert options to create yummy treats for your whole family.