Puff Pastry Cheese Twists are flaky, cheesy and crispy appetizers! They are perfect for parties and entertaining!
Start your party off right with these easy appetizers that can be whipped up in a pinch. These quick and tasty snack are sure to please!
Have you ever had puff pastry twists or cheese twists? Think of them as a flaky breadstick. They are easy to make and they are very elegant. Your guests and family will think you spend hours making them and they will enjoy biting into the flaky and crispy pastry.
These puffy cheddar cheese twists have a sharp and buttery flavor and they are very easy to make.
These twists have only 4 ingredients, most of which you well have on hand in your refrigerator or freezer
How to Make Puff Pastry Cheese Twists?
Unfold the dough and lay it on a non-stick cutting mat or lightly floured surface,
Brush the puff pastry with melted butter and sprinkle with shredded cheddar cheese and salt
Use a pizza cutter or knife to cut it into thin strips
Twist and bake
Toppings for Puff Pastry Cheese Twists:
I used cheddar cheese and sprinkle of salt. The cheddar cheese was my favorite. I love the baked cheesy taste. You could get very creative with your toppings:
Parmesan cheese,
Garlic,
Herbs,
Bacon bits,
Basil pesto….
Serving Tips:
These puff pastry cheese twists are great appetizer to serve at a Superbowl party or any other get together! They go just as well with a glass of wine or a pint of beer
They can stand on their own, but they are also great as part of a spread with things like pickles, dips and other nibbles
They can be baked weeks ahead and warmed in the oven for a few minutes which makes them an easy party appetizer. Feel free to use your favorite cheese or combinetion of cheeses.
Make Ahead:
Cool the cheese twists completely, then store in a sealed container or ziploc bag. May bre frozen and reheated at 350F for a 5-6 minutes.
These Puff Pastry Cheese Twists are a hit with my family and hope they will be with yours too! I love that they are easy and quick to make plus they taste great. Enjoy!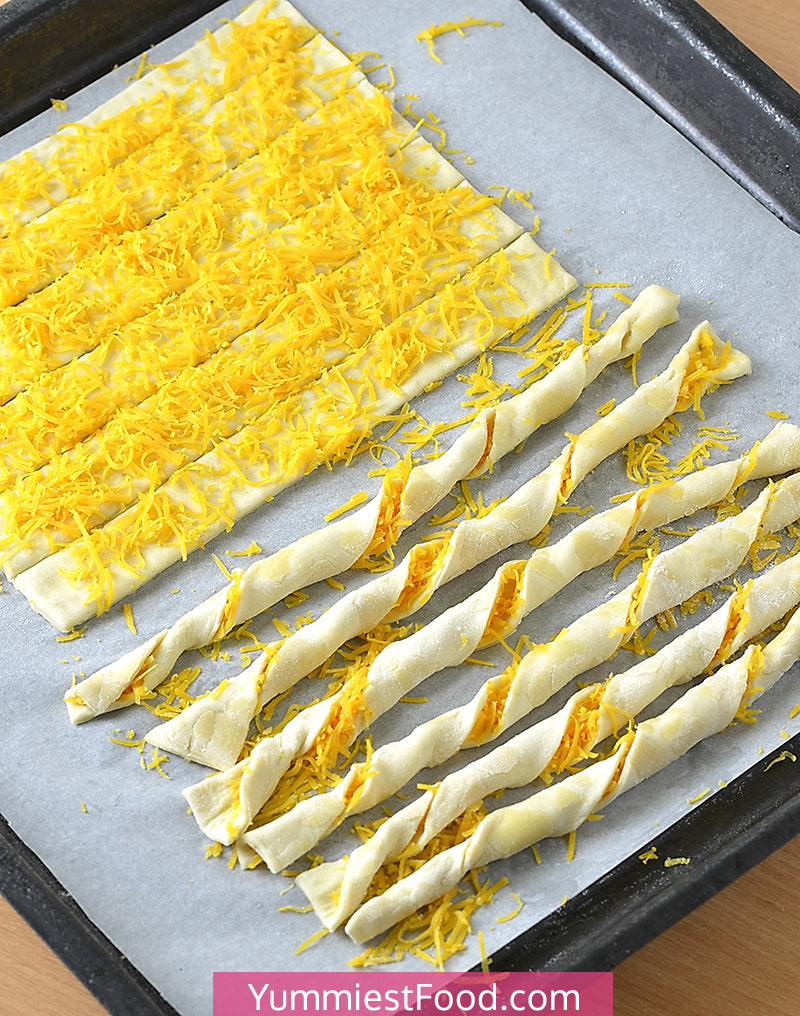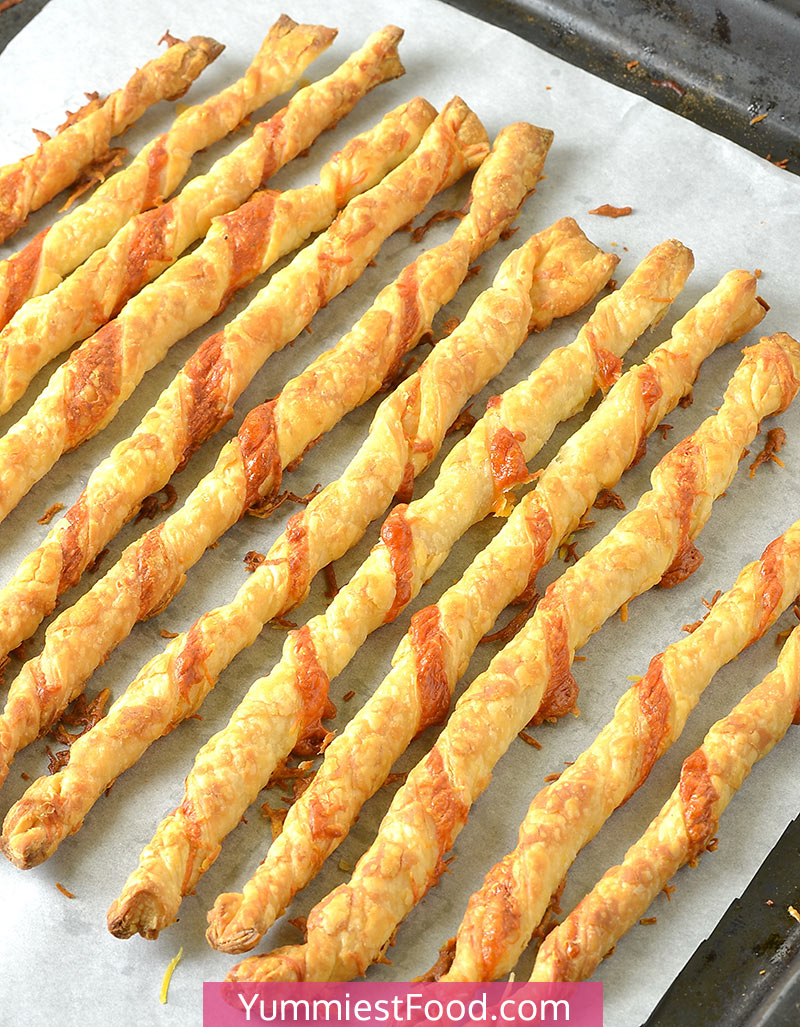 Puff Pastry Cheese Twists Recipe
Prep time:
Cook time:
Total time:
Puff Pastry Cheese Twists are flaky, cheesy and crispy appetizer! They are perfect for parties and entertaining!
Ingredients
1 sheet puff pastry dough, thawed
1 tablespoon butter, melted
1 cup shredded cheddar cheese
Salt, to taste
Instructions
Preheat oven to 400 degrees F.
Line a large baking sheet with parchment paper
Unfold the dough and lay it on a non-stick cutting mat or lightly floured surface
Brush the puff pastry with melted butter and sprinkle with shredded cheddar cheese and salt
Press with a rolling pin to help the cheese adhere to the dough
Use a pizza cutter or knife to cut it into thin strips
Twist the breadsticks before placing them on a baking sheet with a parchment paper
Bake for 10-12 minutes until golden brown and crispy
Serve