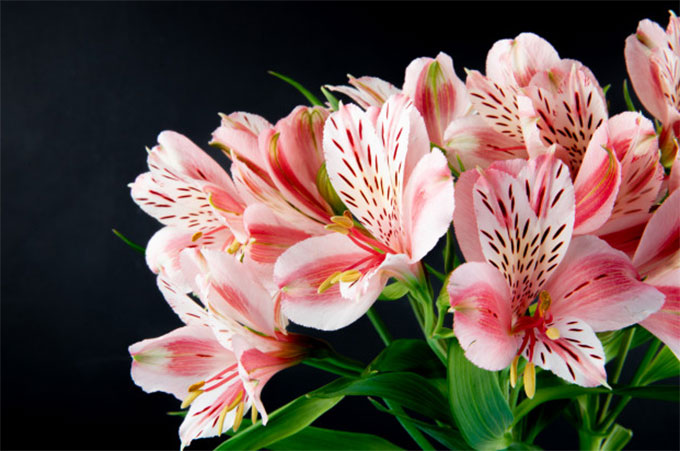 Having an area in your home where flowers could bloom will indeed create a fresher atmosphere. You get to enjoy walking in entryways full of colorful dancing flowers, waving you a good morning every sunrise. The fresh smell and pleasant-looking flowers will surely captivate your eyes and heart in no time.
Flowers are important. They are food sources for some insects, birds, animals and even serve as a medicine for humans and a few animals. Like Alstroemeria, which are usually given during Valentine's Day, their roots are edible for human consumption only if cooked.
Alstroemeria and other edible plants bring nutrition to the body. Also, this wonderful flower comes in various types you might be interested in knowing. Continue reading down below to have more understanding of the differences of alstroemeria flowers.
What is an Alstroemeria?
The Alstroemeria are also referred to as the Peruvian Lily, Parrot Lily, and Lily of the Incas. This flowering plant a native to South America and is a genus of 50 species. It's famous in so many places and is first grown in Brazil, Chile, and Peru.
If you face struggles with pollen allergies, you can't go wrong with alstroemeria since this flower is non fragrant and carries different meanings depending on its color. But, its mesmerizing blooms are usually related to strength, love, devotion, and friendship.
Growing an alstroemeria is hassle-free and would not require you to exert much effort and time. Finding the right place to plant an alstroemeria wouldn't be hard since they like warm, sunny, and sheltered spots and would enjoy any soil type as long as there is good water drainage. To learn more about how to grow this plant, visit Gardener's Path.
Various Types of Alstroemeria
There are 29 various types of Alstroemeria. Listed below are six of its types.
The Adonis
The Adonis is a plant whose stem grows as high as 18 inches. They encompass magenta-colored petals and are slightly curved downward, showing their center at a lovely angle. The center of this flower is colored bright yellow and looks very stunning when placed in glass vases. Adonis is best when planted in a sheltered area and would love to have partial shade or experience full sun.
The Blushing Bride
It's not only humans that know how to blush and be flattered, flowers too! From June to November, this is the time you'd usually see them bloom. Not to mention, this type of alstroemeria flower has soft-white petals that have baby-pink flushes in the center, somehow resembling the color of a blush. This plant can grow until thirty inches in height.
The Alstroemeria aurea
This flower has small petals that are closely similar to orchids. Its petals come in the color golden-yellow or a bright orange tone. Usually, the petals also have patterns of stripes or a speck of a darker color. This flower is easy to grow, and it's resistant to deers. Also, it would grow up to a height of three feet and prosper best when planted in moist soil and placed in full sun.
The Inticancha Antarctica
This flower is free-flowing and compact. It is a dwarf perennial plant that could reach at least 16 inches. What makes it very beautiful and eye-catching is its colored bright white petals streaked with dark burgundy. Also, it's low maintenance and suitable to be grown by new gardeners.
The Flaming Star
The flaming star is called flaming not because it's under fire but because it's an accent plant that could surely highlight your garden. It has a yellow-colored throat and bright orange petals that perfectly complement each other, creating a very eye-catching scenery. This plant is tall and could reach 28 inches tall with narrow green leaves and a strong, firm stem.
If you are looking for a strong plant that's beautiful and reliable, this plant could be one of your best options. But, when you have one, you must know that this plant grows best in well-drained soil that's kept moist.
The Inca Ice
Compared to most Alstroemerias, the Inca Ice is harder than most and is a tuberous perennial with lance-shaped, green-colored leaves. It could reach a height of up to three feet, and its petals are colored in soft-apricot and creamy yellow color. It's made more beautiful with a striking short burgundy throughout.
This plant is perfect to be a border plant and is low maintenance. So if you do not have much time to take care of it and give attention, it would not be a big problem. Also, it's a disease-free flower that grows best when mulching is done during the winter season.
Takeaway
A place without flowers would definitely look dull. In this case, you would also not have regular visitors like bees and butterflies to greet you. Don't feel dismayed if you do not have plants growing in your garden because you could always start on easy to plant flowers like Alstroemeria.
There are more varieties of Alstroemeria flowers but mentioned above are some of the six that you might want to get started knowing. This beautiful flower will not disappoint you in creating a livelier place at home.