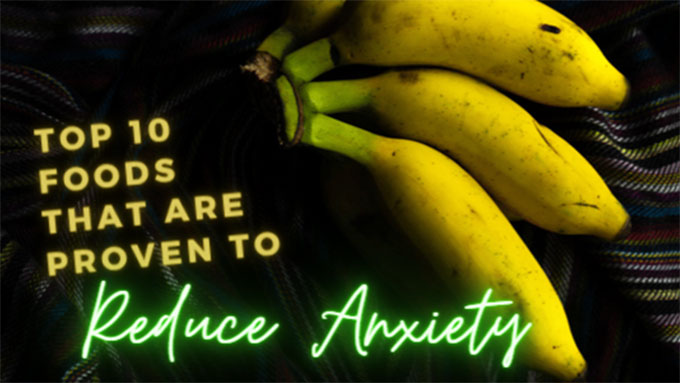 We all have days when we feel anxious. It's normal to get stressed out over a deadline at work or when you're facing an important meeting. In fact, anxiety disorders are the most common mental illness in the United States, affecting 40 million people.
But if you're feeling anxious all the time, it can be a sign that you need to make some changes in your life.
What is Anxiety?
The term anxiety is sometimes used specifically to refer to the symptoms of anxiety disorders but is also used non-specifically to describe a broader set of experiences, such as apprehension, nervousness, or worry.
Anxiety can be either a short term "state" or a long term "trait". Whereas trait anxiety represents worrying about future events, anxiety disorders are a group of mental disorders characterized by feelings of anxiety and fear. Anxiety disorders share the anticipation of a future threat, but differ in the types of situations or objects that induce fear or avoidance behavior. People often do not realize they are suffering from an anxiety disorder until they see the symptoms.
What Causes Anxiety?
Anxiety can be caused by many things, ranging from genetics and environmental factors to traumatic events. It's important to note that there is not one single cause of anxiety — it can be caused by a number of different things.
For example, many people experience anxiety when visiting a dentist. This is because they are afraid of pain or worried about the effect that treatment might have on their teeth and gums.
It can also be caused by genetics and family history . If you have a close relative with an anxiety disorder, you may be more likely to develop an anxiety disorder yourself. This is because anxiety disorders tend to run in families. Most experts believe this is due to genetics — we inherit certain brain chemicals that make us more susceptible to becoming anxious or depressed.
Foods That Are Proven To Reduce Anxiety
Sometimes, anxiety can be a symptom of an underlying medical condition such as depression or an autoimmune disease. In other cases, it can be caused by lifestyle factors like poor sleep habits or lack of exercise.
No matter what the cause is, there are plenty of things you can do to reduce your anxiety levels. Here are some foods that are proven to help keep anxiety at bay:
Bananas
Bananas are packed with potassium – a vitamin that helps reduce stress and anxiety levels. A study conducted by researchers at the University of North Carolina found that people who ate bananas showed significant reductions in their blood pressure compared to those who didn't eat any fruit at all. The best way to consume bananas is by eating them raw because cooking them reduces their nutrient content significantly.
Pumpkin seeds
Tryptophan is an essential amino acid that our bodies need to make serotonin. Serotonin acts as a neurotransmitter in the brain, sending messages between neurons and therefore helping to regulate functions such as sleep, mood and appetite. Pumpkin seeds are high in tryptophan, which means they'll help your body produce more serotonin (which can help you stay calm). In fact, pumpkin seeds have been shown to be so effective at producing this neurotransmitter that researchers have explored using them as an alternative treatment for depression.
Chia seeds
Chia seeds have high levels of Omega-3 fatty acids, which are known to help reduce inflammation and anxiety. They also contain a lot of dietary fiber, antioxidants, and protein. Some people even choose to eat chia seed pudding as an alternative to dairy!
It's easy to add chia seeds into your diet because they can be consumed whole or ground into flour. You can sprinkle them over salads or yogurt parfaits at breakfast time; add them to smoothies; bake with them in muffins or cookies; top your oatmeal with some crunchy goodness before taking a bite (or put in overnight oats!).
Coconut oil
Coconut oil is a saturated fat that can make you feel good.
It's high in lauric acid, which has been shown to reduce anxiety and promote relaxation. It also can be used as a moisturizer for your skin, hair, and even nails!
Oatmeal
Oats and oatmeal are high in magnesium, which is great for soothing anxiety. Oats and oatmeal are also a good source of B vitamins, which help control blood sugar levels and balance moods.
Finally, since they're so versatile—you can eat them any time of day (and night!)—oatmeal is the perfect food to keep around the house if you tend to get anxious when hungry. A bowl of steel cut oats with some fresh fruit makes for a quick breakfast that will keep you satisfied until lunchtime; add in some protein powder or milk for even more staying power.
Salmon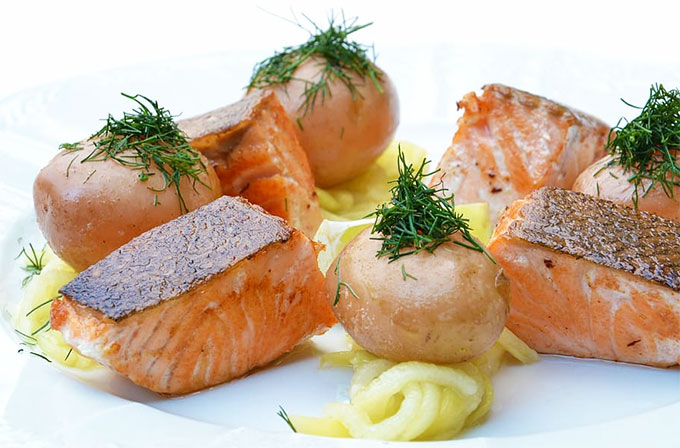 Salmon is a great source of omega-3 fatty acids, which help to reduce inflammation and produce serotonin. Serotonin is a chemical found in the brain that helps regulate mood. In fact, eating salmon twice a week may reduce anxiety by up to 50%.
Turmeric and curcumin
Turmeric and curcumin are the most popular spices in Ayurvedic medicine. They have antioxidant properties that help to improve your metabolism, anti-inflammatory properties that can soothe aching muscles, and soothing effects on the digestive system.
You can use turmeric in cooking or add some to smoothies. You can also take it in capsule form. It's even been used as a face mask! Turmeric is beneficial for reducing anxiety because of its soothing effects on both physical pain and mental stressors like depression or anxiety itself.
Dark Chocolate and cacao
Dark chocolate and cacao, the raw form of cocoa beans, are high in magnesium and flavonoids. Magnesium is a mineral that helps to regulate nerve function, while flavonoids are plant compounds that can help reduce stress-related symptoms.
Because of their high magnesium content, dark chocolates with at least 70 percent cacao (the darker the better) have also been linked with reduced blood pressure and cholesterol levels among people who consume them regularly. It's important to note that you don't need to eat an entire bar of chocolate for these benefits; a small piece will do just fine!
Kale and spinach
Leafy greens like kale and spinach are great for your eyes. They're also high in vitamin K, iron, magnesium and calcium.
However, what may not be obvious about leafy greens is that they're also high in fiber. Fiber helps to lower stress by improving digestion, lowering cholesterol levels and keeping you feeling fuller longer (avoiding the temptation to binge on unhealthy foods).
Milk and cheese
If you're lacking in calcium, your body may not have the resources it needs to produce melatonin. Calcium also helps regulate the release of stress hormones like adrenaline and cortisol, which can throw off your sleep cycle and make you feel on edge.
Milk and cheese are especially good sources of tryptophan—a type of amino acid that's converted into serotonin—which acts as a mood stabilizer in the brain. Tryptophan is found in many foods including poultry and fish but gets its name from being most abundant in dairy products such as milk, cheese and yogurt.
There are some healthy foods you can eat to help manage your anxiety.
Eating a balanced and healthy diet is important for everyone, but it's especially important if you're dealing with an anxiety disorder. Anxiety disorders are often treated with medications that work on the brain chemicals serotonin and dopamine. Having a balanced diet will help keep these brain chemicals functioning properly and give your body what it needs to function well overall.
There are also certain vitamins, minerals, fatty acids, amino acids and antioxidants that can reduce symptoms of anxiety by helping the body deal with stress better.