Did you just buy a puppy? And now you are confused about what you will feed him? We are here to help you with your confusions of what, when and how to feed your puppy and to tell you about the top 5 dog foods for your puppy.
Feeding is the most essential part of owning a pet. Your puppy is growing each day by developing organs and building muscles and bone mass. The only thing he will be doing as a dog is maintaining their health and of course looking after you. Feeding is a process that includes everything from buying the best dog food, the frequency and timing of feeding. Caring for a newborn puppy is really challenging. The amount and frequency of food for puppy depends on the following factors;
The breed of your puppy will decide how much you will feed him.
The weight of your puppy
And the number of servings you divide his required intake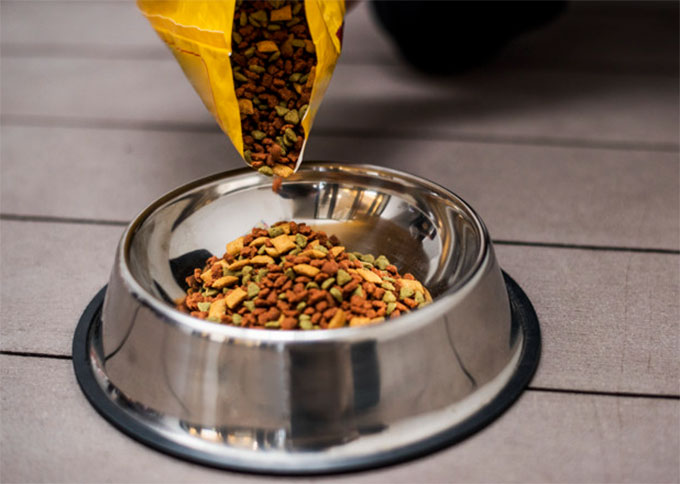 Large breeds are more prone to hip dysplasia than small breeds if not given proper nutrition in growing years. Also, you should know when to switch from puppy food to adult dog food. It is better to be late in this matter than switching too soon because adult dog foods contain excess Calcium content that can harm your little pup.
Top 5 puppy foods
As mentioned above, nutritional requirements for large breeds and small breeds differ because of the difference in body weight and function. It advised to switch your pup on to adult food when it has reached 80% of adult body weight. Let us now introduce you to the top dry dog foods for your puppy.
1. Taste of the Wild
The brand is famous for its grain-free dog food. The food caters to the nutritional requirements of your puppy as it is nutritionally balanced and highly digestible. The food of TotW contains protein sources like an egg to help have your pup a shiny and healthy coat. All the food products have antioxidants in them. The brand works to maintain the relationship between the nutritional requirements of wild dogs and modern dog food. Both dry and wet dog foods are available.
2. Royal Canin Puppy Dry Dog Food
This brand is a favourite because it produces dog food according to a dog's size as well as for different dog breeds. If you are unaware of the breed of your dog, don't worry they have dog foods unspecific to any breeds for small, medium and large puppies. If you are a little hesitant about trying a new brand try a pack of Royal Canin Mini Puppy Dry Dog Food-$27.95.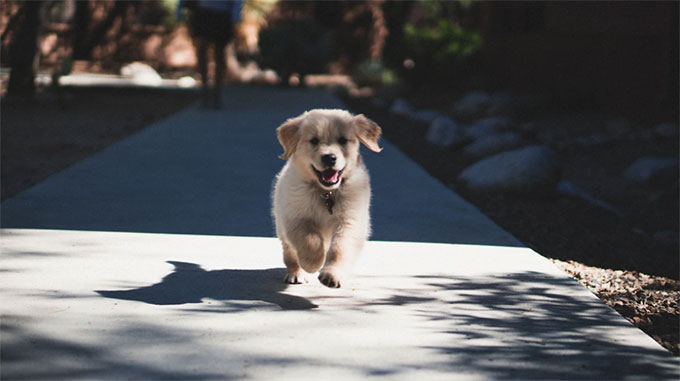 3. Wellness
Started as a family owned business in 1970, the brand has built a reputation for the best dog food in the market. The main focus of the company is to provide holistic nutrition. The food is nutritionally balanced having everything from fats to carbohydrates. It is comparatively an expensive brand but still is preferred by many pet owners. The reason being the food doesn't contain filler ingredients that can cause allergies to your pup.
4. Blue Buffalo Freedom Grain-Free Chicken Recipe
This recipe is best for Small Breed Puppies. The recipe is grain-free and for quality and flavour, it contains quality chicken & turkey. It is made of a lot of ingredients for different requirements like garlic, carrots and sweet potatoes for nutrients and fibre. To increase the diversity of ingredients and make it delicious they add blueberries, pumpkin, apple and other fruits. Other recipes to suit medium and large breed puppies are also available.
5. Nutro Wholesome Essentials Puppy Food
The main ingredients of their dry food are chicken, chicken meal, chicken fat, whole brown rice and split peas. Nutro offers grain inclusive foods and is best suited for small and medium breed puppies. The brand is trusted by many and offers budget-friendly products.
Dry food is easier to feed to your puppies as it is less messy to clean up after your puppy is done. Dry dog foods are also preferred because of their longer shelf life and higher carbohydrate content. It is your choice to feed your puppy a grain-free or grain-inclusive diet. Avoid food with grains if your puppy shows allergies to grains.
REFERENCES: