Preparing for a test goes beyond taking notes and practicing revision papers. To hone your skills as one of the professional essay writers requires looking after your physical health. Nothing is more vital to this than the brain. A good diet, including lots of water, will maintain and improve your cognition, and that's a sly way of saying 'do better in school.' Studying and succeeding is much easier on a full stomach.
There are no single foods that will make your test results better; sorry to crush any dreams. Instead, the right diet can make your overall health improve and drag your GPA with it. Here are the foods worthy of eating before a test:
1)  Fatty fish – mackerel, tuna, sardines, salmon
Omega-3 is a fatty acid. Having higher levels of unsaturated fat is related to lower levels of a protein called beta-amyloid. This protein forms harmful and distressing clumps of matter in the brains of those with Alzheimer's disease.
You should be eating fatty fish at the bare minimum twice per week. Make sure that you're choosing fish species that have low levels of mercury in them though. These include salmon, cod, some types of canned tuna, and pollock.
If fish isn't appealing, we'd encourage you to try some recipes out before implementing this option or take a supplement. It's a cheat, and you won't get the calorific benefits; also, the efficacy of supplements has some contention. Be sure to do your research on the best kinds.
2)  Coffee
There are right times and wrong times to drink coffee. In the morning, caffeine, the active ingredient in coffee, fights against our internal hormonal clock. True, a strong espresso will get us going, but is that always the best state to be writing?
One alternative is to drink an invigorating tea in the morning or decaf if you're an essay writer who is bent on the beans. Drinking something without caffeine in the morning allows your body to get itself going and use up remaining adenosine. Once you're firing on all cylinders as early as 11am or three hours after waking up, your body will be able to process and lay down the power of caffeine. Hormones are more receptive, and you're not undoing any part of your body's restorative work that comes from sleep.
Still, all this could be highly individual. A 2014 study showed participants who had a high caffeine consumption compared to the average achieved better scores on mental function tests. Another study showed how caffeine could help solidify novel experiences and memories. It's better to study once and remember the information than learn twice poorly.
So, drinking coffee can give you a boost in productivity and brainpower, which is ideal in a test environment. Unlike other items on this list, coffee is a drug, and that's why dosage and timing are so important. The other's are more mid-term and long-term solutions to brainpower. But out of all of the entrants, coffee is the best food before a test if you can call it a 'food.'
3)  Blueberries
Blueberries are a versatile fruit. They're great on desserts, in smoothies, and just as brain food snacks. Flavonoids give blueberries their beautiful color and have also correlated with memory improvements in several studies.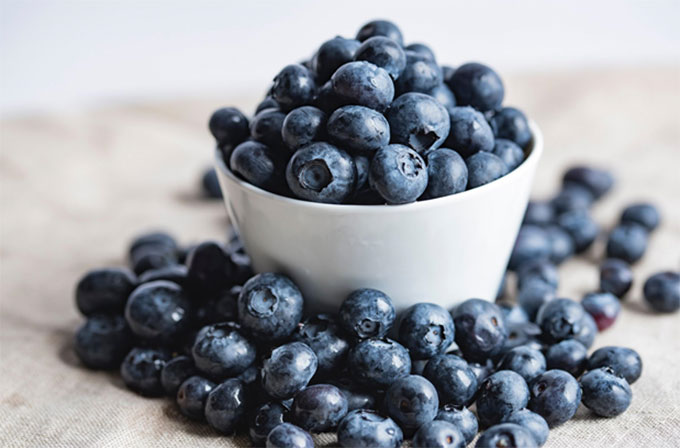 With the flavonoids in mind, this category could easily include berries, like strawberries, blackberries, and raspberries. Deep colored berries like blackberry and blueberry also bring with them anthocyanins; they're a group of compounds found in plants that deliver anti-inflammatory and antioxidant benefits.
4)  Turmeric
Turmeric is a root, like ginger, that is a foundational ingredient in curry powder. The herb is associated with activating numerous cognitive buffs. Curcumin is the bit of turmeric that attracts the most attention. It has the power to cross the blood-brain barrier. A rare skill in something so beneficial, crossing the barrier means it can directly influence the brain's cells, rather than a corollary boost from improved circulation or immune health.
More specifically, curcumin can potentially remove and prevent the amyloid plaques on the brain, a distinctive biological marker of Alzheimer's.
As well as this scrubbing power, curcumin can ease depression by boosting levels of serotonin and dopamine. A study found that curcumin had powers comparable to pharmaceutical anti-depressants. These powers have antecedents in the neurotrophic effects of curcumin on the brain. Yes, curcumin can improve the chances of you growing new brain cells.
Turmeric is an Indian herb and goes excellently in a curry. You can buy the powder to add to dishes, though don't start burning it or boiling it too hard. You'll kill off the magic by doing that. Turmeric is also found in root form, as root turmeric can get dried into powder (which is a hassle), grated and used fresh in dishes, or steeped in hot water to make tea. Turmeric lattes and chais are also growing in popularity.
5)  Eggs
Packed with B-complex vitamins, eggs are one way of reducing the prevalence of a compound called homocysteine. Elevated levels of this compound have been linked with strokes. Folic acid is also present in eggs, and the entourage effect of homocysteine is a linchpin against cognitive decline.
6)  Pumpkin Seeds
These seeds are packed with zinc, a mineral that's essential for those wanting to enhance memory and thinking skills. They're an excellent study snack containing enough protein. And they're a versatile ingredient. Toast them and add to salads, chuck a handful into the blender with your usual smoothie fruits, or munch them straight from the pack.
No food will save your test results from the doldrums. But a balanced and varied diet will enable you to study better and for longer. Also, make sure to drink plenty of water; hydration and nutrition must both be satisfied for a healthy and happy brain.