Indeed, food might not be the first thing you would associate with Orlando. With its own NBA team and Harry Potter connection, the local food scene is getting well, delectable with the growth of the city. Suppose you feel confused about where and what you should eat and drink. In that case, this article should prove immensely helpful, especially if you will spend limited time in the city.
This article lists the most popular eating places in Orlando, like restaurants and bars. Orlando offers a myriad of choices when it comes to cuisines that will delight you. This article doesn't claim to be a comprehensive Orlando food guide. But it should acquaint you with some of the more spots you can visit for a truly delectable experience for your tastebuds. They are as follows:
●    Kadence ($$$$)
Serves Japanese and Sushi
Located at Audobon Park
Almost everything about Kadence stands out, right from the seemingly ordinary but strikingly black-colored building. It looks more like a pop-up museum for modern art exhibits instead of a museum. But the restaurant scores high where it matters the most, serving sushi. The quality of the sushi, besides other Japanese dishes that the restaurant offers, are the best that Orlando has to offer. It makes up for the art like installations that competing restaurants come with but can't stand up top Kadence in terms of quality. But you need to be aware that it is hard to reserve seats at this small nine-seater restaurant. For people who can't wait for the necessary period, the restaurant also offers delicious Japanese breakfast menu items over the weekends. In short, Kadence is a must-visit Japanese eatery while you are in Orlando.
●    Mathers Social Gathering ($$$$)
Serves American and Bar Food
Located at Downtown Orlando
In terms of appearance, the Mathers bar in downtown Orlando is a mix of an old mansion library and a barn. Accordingly, it is decorated with antique items and old-school furniture. Heck! Even the bartenders use suspenders as their dress. The place sports a unique look and ambiance, and to top it all, they also serve up some of the best cocktails and tiny cocktails you are likely to find in Orlando. The bar also offers a handful of American food items ranging from charcuterie boards to chili rice cakes. Additionally, the eating destination also sports a general store for things like candy and absinthe.
●    Flippers Pizza ($$)
Serves Pizza
Located in Lake Buena Vista, FL (Near Disney)
If it is a serving of a hot and great tasting pizza quickly that you are looking for, then Flippers Pizza is a must-visit. Besides the prompt preparation and delivery, you also get fresh and quality ingredients. The Pizza Lake Buena Vista, Orlando eating destination specializes in brick oven pizza. The location is also convenient, making it an excellent destination for snacks, dinners, and lunches. It is situated at Lake Buena Vista shopping center. It is essential to emphasize the joint's location as its proximity to tourist attractions like Disney World and Disney Hotels and Orlando Vineland Premium Outlets. Further, the restaurant offers online orders and takeout options as well.
●    The Stubborn Mule ($$$$)
Serves American Food, Burgers
Located in Thornton Park
You want to head for the Stubborn Mule if you think of getting a bit boozy like birthday celebrations or any situation that calls for a suitable amount of booze. This eatery located in Thornton Park is well known for the wide variety of mocktails it serves. If you want to drink your heart out, they also give you the option of bottomless mimosas, which will cost you $15. The eatery is highly regarded not only for its drinks but for its high quality and delicious American food item fare. Some of the dishes offered here are specifically meant for consumption after having a couple of drinks. And you know what, they taste great!
●    The Guesthouse ($$$$)
Located in Mills 50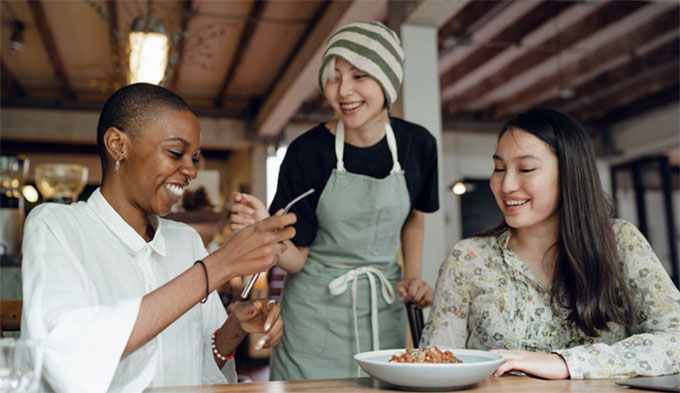 As the name would suggest, The Guesthouse has the appearance and ambiance of the house of a friend living in a posh and relaxed neighborhood. Besides the elegant and attractive looks and apartment-like décor, this is one of Orlando's emerging favorites amongst bar visitors. The place has a designated Happy Hours from four to eight pm when you get fifty percent off on all menu items.
●    The Glass Knife ($$$$)
Serves American Food, Sandwiches, and Café or Bakery
Located in Winter Park
The design of this eatery draws its inspiration from Alice In Wonderland and an art deco bakery. If you are looking for exceptionally tasting sweet food in Orlando, this Winter Park destination is a must-visit. It provides all kinds of baked sweets. They are so beautifully hand-decorated that it is not unusual for visitors to click pictures of the food itself. Additionally, the eating destination comes with a full-fledged lunch and brunch menu.
It is hoped that this article served as a brief but helpful guide for your food adventures. You might be an Orlando resident or, more likely, a visitor to the city. The list has been compiled with inputs from several sources, including leading food critics and writers based out of Orlando. Have a fulfilling fill of fabulous food!