Delicious thick, soft, and chewy cookies combine the classic and the chocolate to create a beautiful marble effect. Simple and special dessert for Thanksgiving and the holiday season!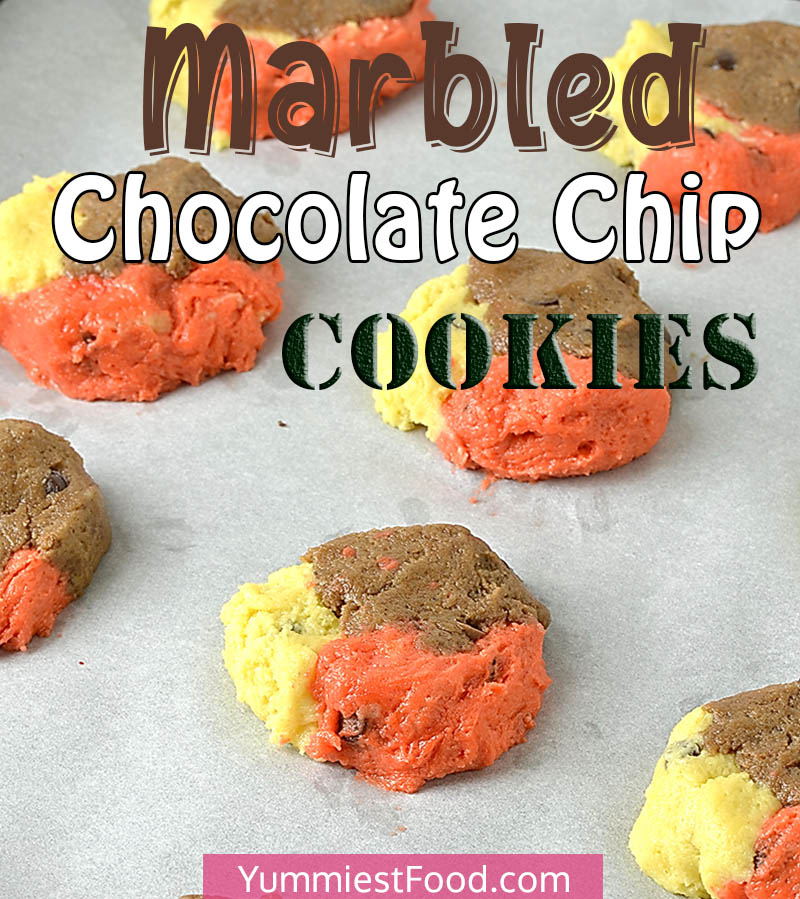 What do I love about this recipe?
These Fall Cookies are a fun way to celebrate the coming of fall. Colorful cookie dough makes these a pretty cookie to enjoy all fall season.
Simple and classic! This recipe for Marbled Chocolate Chip Cookies is the best I have ever made. A true classic recipe with everyday ingredients that is simple to make.
I sure love the fall season and all the delicious comfort food that comes with it.
The marbled colorful dough is an extra step to these cookies but it is well worth it! They make a great fall gift.
Here is the basis on how they come together:
Melt your butter: No guessing on the right consistency of butter you just going to melt it all the way through in the microwave and let it cool for just a few minutes.
Beat butter and sugars: Get it nice and fluffy and creamy.
Add eggs and vanilla: Mix it just barely seriously, don't beat that egg too hard
Mix in dry ingredients: Flour, baking soda, salt, the usual suspects.
Add chocolate chips
Bake cookies: Roll them up into balls and bake – but please, do not overbake. We want them to be just barely done for that soft deliciousness.
Freezing Cookie Dough: I love making extra cookie dough to freeze for later. All you need to do it roll them into balls and then freeze. Place them on a sheet pan and into the freezer. This way they all freeze individually without getting stuck together. Once they are frozen you can place them all in a large freezer bag together.
Baking Frozen Cookie Dough: Start by removing the cookie dough from your freezer. Take out the cookie dough balls from the baggy and place on a baking dish to thaw. Once the cookie dough is back to room temperature you can bake them according to the directions.
How long will these cookies last?
These cookies will stay fresh, kept in an airtight container, at room temperature for up to 1 week. Warm one up in the microwave for a few seconds, if desired.
I want to wish you all Happy Thanksgiving and I hope you have a great day filled with family and good food and with THE BEST soft marbled chocolate chip cookies! Enjoy!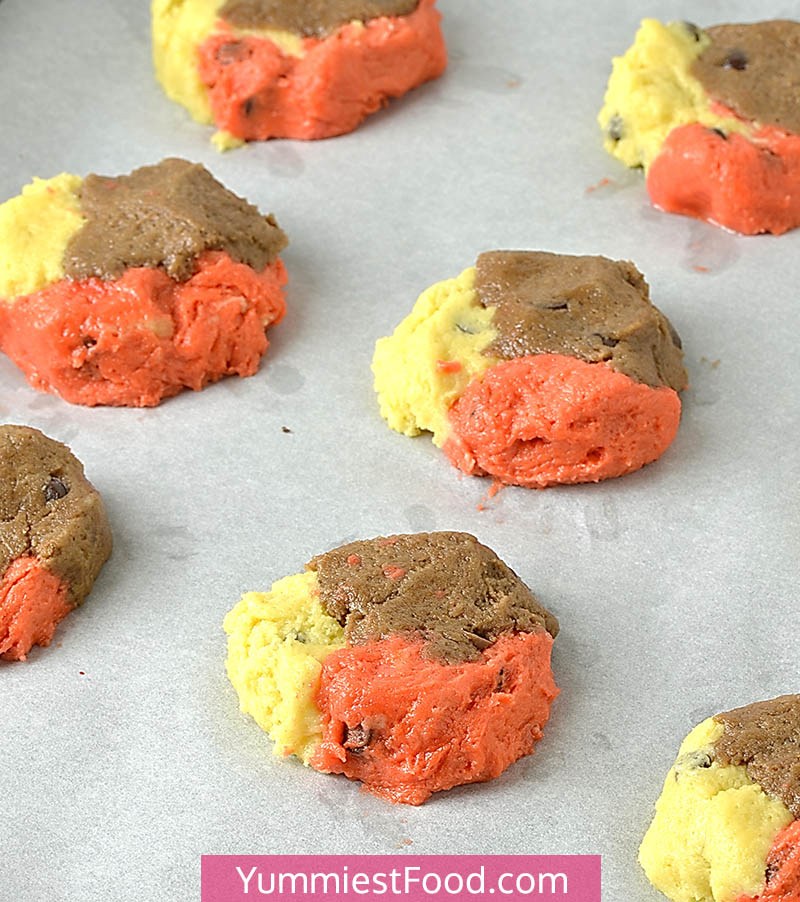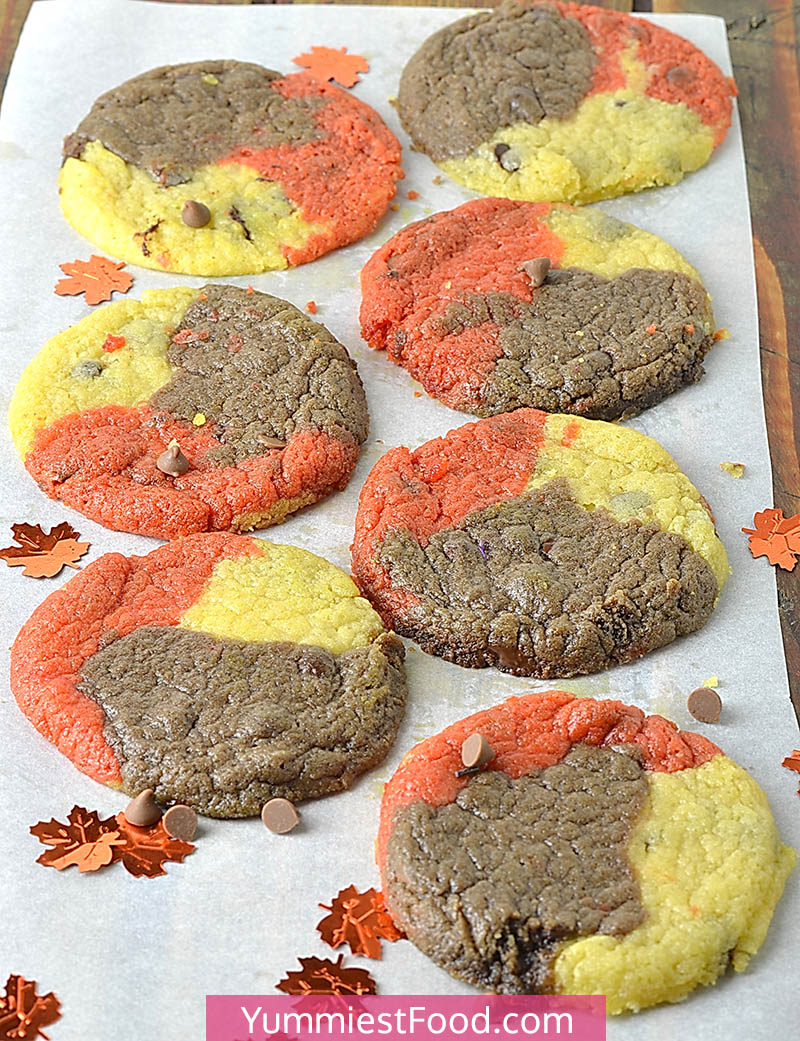 Marbled Chocolate Chip Cookies Recipe
Prep time:
Cook time:
Total time:
Delicious thick, soft, and chewy cookies combine the classic and the chocolate to create a beautiful marble effect. Simple and special dessert for Thanksgiving and the holiday season!
Ingredients
1 cup softened butter salted
1 cup granulated sugar
½ cup brown sugar
2 Eggs
2 teaspoons vanilla
1 teaspoon baking soda
½ teaspoon salt
2 ¾ cups of all-purpose flour
½ cup chocolate chips
Orange food coloring, optional
Brown food coloring optional
Instructions
Preheat the oven to 350 degrees.
Microwave the butter for about 40 seconds to just barely melt it. It shouldn't be hot – but it should be almost entirely in liquid form.
Using a stand mixer or electric, beat the butter with the sugars until creamy.
Add the vanilla and the eggs, beat on low speed until just incorporated 10-15 seconds or so (if you beat the egg for too long, the cookies will be stiff)
Add the flour, baking soda, and salt. Mix until crumbles form.
Use your hands to press the crumbles together into dough, it should form one large ball that is easy to handle
Add the chocolate chips and incorporate with your hands.
Separate the cookie dough into three equal portions.
Use food coloring to color one of the portions orange and one of the portions brown.
Roll the dough ball out of orange, brown and white dough balls and place on a cookie sheet.
Slightly press the cookie ball down onto the cookie sheet.
Bake for 9-11 minutes until the cookies look puffy and dry and just barely golden.
Allow cookies to cool on the baking sheet for 5 minutes then transfer to a cooling rack to finish cooling.